Bologna Airport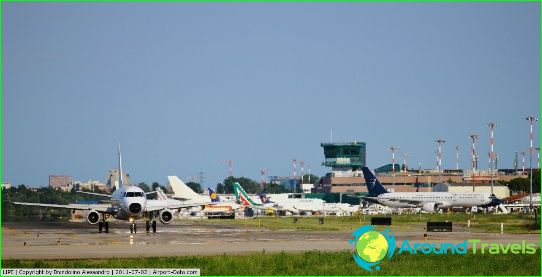 Marconi Airport is located in the Italian townBologna, 6 km from its center. The airport is named after the electrical engineer Guglielmo Marconi of Italy. Airport holds the important status in the country, it is on the 10th place on the overall passenger traffic and 6th place in the number of passengers who arrived from abroad. Most tourists from the airport follow in Milan, it is 200 km away.
Every year there are about 5 million are servicedpassengers and sent flying in all directions - in Europe, Africa and other continents, etc. In areas served by 33 flights are very popular in Europe, low-cost airline Ryanair. Since 2008 from the Marconi airport began to make regular trips to Moscow, 2 times a week. In addition to international flights in Bologna Airport is connected with almost all the cities of Italy.
services
This small airport receives passengers from many countries and therefore should ensure maximum comfort and convenience to its guests.
For passengers submitted a standard set of services - post office, ATMs, banks, currency exchange, etc.
If necessary, you can contact the clinic that runs directly to the airport.
Guests enjoy a large number of shops, including duty-free, where before departure, you can buy almost any product, from souvenirs to food.
Cafes and restaurants will be served on the table wonderful Italian dishes, which can not not try.
luggage storage works on the airport territory. A passenger in the car there is ample parking.
For just arriving passengers and have not yet decided on the travel route, directly in the terminal tour desk, which will help resolve this issue.
Getting there
As in most cases, there are severalways to travel from the airport to the city. The most common - is the bus BLQ. His route of airport-F / D station and back. The journey takes about 20 minutes and costs in the region of € 6. By the way, the Bologna railway station is the largest in Italy, from here you can go in different directions.
Another way - a taxi, which takes passengers to any point in the city.
Also, the city can be reached on their own, in a rented car.
Photos Bologna Airport