Airport Treviso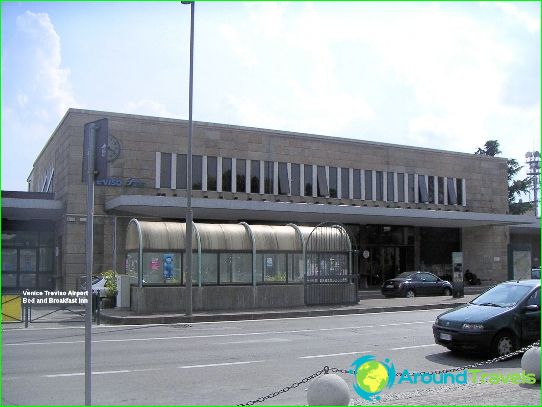 Treviso Airport serves the city of the same name,which is located about 5 kilometers from the airport. The main destination for tourists arriving at the airport, the city of Venice. Venice is 30 km from Treviso Airport.
It is said that the airport and the two cooperatingairlines, which carry low air - Ryanair and Wizz air. For little money here you can fly from Barcelona, ​​London, Prague and other major cities in Europe.
Annually, the airport serves more than 2 million passengers, having only one runway, 2,400 meters long.
passenger terminal building is not very large in size, it is more designed for short-stay tourists to the territory of the terminal.
services
Airport in Treviso, despite its small size, yet flown is ready to provide the most comfortable conditions for tourists.
As everywhere in the airport café andrestaurants that are always ready to feed the hungry visitors. In addition, the terminal is located on the territory of a small area of ​​shops where you can buy various goods - products, souvenirs, drinks, etc.
For cash withdrawals at ATMs located terminal. You can also send mail to the post office.
It operates a separate waiting room, high level of comfort for business class passengers.
Available car rental locations.
Getting there
Schedule of buses from the airportVenice is tied to scheduled flights of aircraft. The ticket price is 5 euro. Shipping takes bus company ATVO. It is said that it is possible to just buy a return ticket for the bus, so will a little cheaper. Round-trip ticket will cost 9 euros. However, the ticket purchased will be valid for a week. The road will take about one hour.
Also from the airport to Treviso you can reachother nearby cities. The easiest way - is to train. In Treviso there is a railway station, which can be reached by local bus №6.
It is also possible to reach the above described manner toVenice, which also has a railway station. From there the directions are available in various Italian cities, except that of Venice, you can reach the French capital.
Photos Treviso Airport