Areas of Florence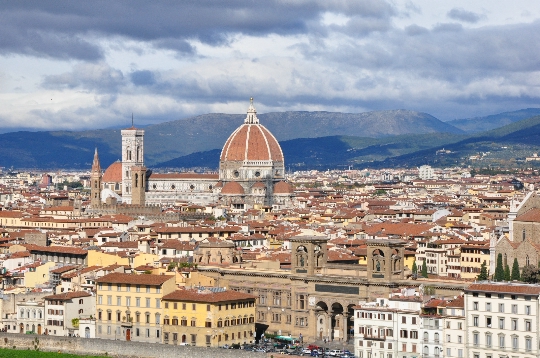 Florence Districts reflected on the map the capital of Tuscany, and they are grouped in the center or close to it, around those or other places of interest.
The names and a description of areas of Florence
Historical Center: "Sheltered" in its territory the Cathedral of Santa Maria del Fiore (inside there is a museum that holds priceless paintings - "Mary Magdalene" and "Lamentation", anyone can take a picture, up to the dome of the cathedral), Palazzo Medici Riccardi (worth see the Chapel of the Magi, decorated with fresco "Procession of the Magi to Bethlehem"), the Baptistery of St. John (visitors will be able to admire the ceiling Byzantine mosaics and priceless panels, created on biblical subjects and adorning the portals of the Baptistery), the Academy gallery (guests will show a collection of Florentine painting of 15-16 centuries and sculptures by Michelangelo), Palazzo Vecchio (deserved interest due to the delightful interior decoration and located next to the fountain "Neptune"), San Marco Museum (in addition to the unique collection of frescoes of the museum is famous for its valuable books and ancient manuscripts).
San Lorenzo: in addition to the inspection of the main attractions of the area - the church of San Lorenzo (famous for the chapel, where the sarcophagi of representatives of the Medici family), travelers will be interesting to walk through the Central Market located there with meat, fish, vegetables, grocers.
Oltrarno: Here it is recommended to inspect the Pitti Palace (decoration of its halls are the Raphael paintings, Veronese, Perugino, Titian) and the Holy Spirit Church (a reflection of the Florentine Renaissance, is to visit the local museum, which is based on a collection (the Fund) Salvatore Romano), visit the Galleria Palatina ( 20 rooms will be able to inspect at least 500 paintings) and the Gallery of modern art (here offered to admire the Italian painting of the 19th century), silver Museum (inspection subject jewelry by Venetian masters) and the gardens of Boboli (feature fountains, grottoes, pergolas, samples of sculpture art, coffee house, which serves aromatic coffee taste).
Santa Croce: of its interesting buildings is to provide Santa Croce church (here the tombs of the great Florentines, in particular, Galileo and Machiavelli) and the house of Giorgio Vasari (in the archive of the museum kept the letters KozimoI, Michelangelo, Pius V).
Coverciano: in addition to the local churches should examine the villa of Poggio Gherardo (special interest are handmade arches and ceiling finishes).
Where to stay tourists
Do you want to live close to restaurants, where you canenjoy authentic Tuscan cuisine? For accommodation, you can choose the area of ​​San Lorenzo. For stays of tourists can come walking distance from the Church of Santa Maria Novella (from expensive released "Grand Hotel Baglioni"). Travelers should look to the quarters around the Duomo - the convenience of living here due to the proximity to shopping and iconic places of the city (here may like the hotel "Hotel Pierre").
Photos Florence area