Sight Florence area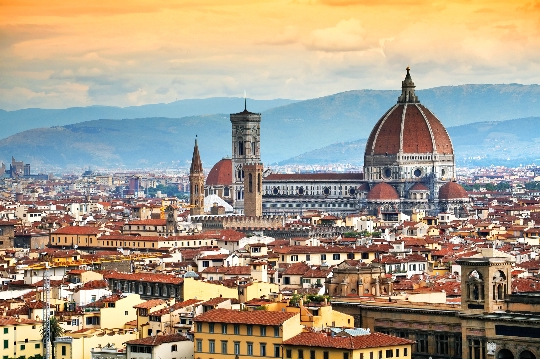 Looking at the viewing area of ​​Florence, at thetravelers will have a chance with a new angle to look at the Basilica of Santa Croce, Palazzo Pitti, the Strozzi Palace and the Spini Ferroni, Boboli Gardens, and other objects.
Giotto's Bell Tower
The rise to the observation platform of the cathedral bell towerThe Duomo, is a model of the Florentine Gothic architecture (height - 80 m, the cathedral facade is decorated with a unique 4 and 6-sided medallions), you can make only on foot, breaking the more than 400 steps. Such an effort will be richly rewarded - before the eyes up here appear Florence, which will be able to observe from different angles (to the offers - stationary binoculars). Important information: visit of attractions + ascent to the site to review the cost to travelers at 6 euros; during religious holidays access to the bell tower is closed for visitors.
Address: Piazza del Duomo
Palazzo Vecchio
A small tower of the Palazzo Vecchio todayIt is another lookout where you can see the Church of Florence and tile roofs of houses and the Tuscan hills on the horizon. Visitors should be adjusted not only to "walk" through the palace, but also to climb up the stairs. The cost of the combined ticket which includes a visit to the various halls of the Palazzo Vecchio, the tower - 14 euros.
Address: Piazza Signoria 1
The restaurant "Il Conventino a Marignolle"
Since this restaurant features a panoramic terrace, here it will be able to enjoy the views and Tuscan cuisine, opening onto a beautiful park. Address: Santa Maria a Marignolle 10.
The observation deck at the Pitti Palace
Since the palace Pitti adjacent Boboli Gardens,you should immediately purchase tickets to the gardens (ticket price - € 7) to twice not to stand in line at the box office (you can buy an integrated ticket, worth 11.5 euros). Travelers like to combine a visit to these two places of interest, as from the observation deck, located here, you can admire the stunning views of Florence.
Address: Piazza Pitti, 1.
Piazzale Michelangelo
This area (it is built on a hill)popular for opening here panoramic views of the city - hence admire the dome of the Duomo, the bed of the river Arno, tiled roofs of urban buildings. In the center you can see the statue of David, look to the restaurant La Loggia (visitors will wait for Italian food and the best panoramic view from the window), and to the north of the statue to find a tourist zone with an area for review (here should be at nightfall, when the city the lights).
How to get there? To come here by bus number 12 and 13, following the city center.
The Ponte Vecchio
Most popular for its interestingespecially - with its both sides settled down at home, and in the middle there is a passage and observation platforms, which are sent to a rest, to contemplate the wonderful panorama of the river Arno.
Photo