Shops and boutiques of Florence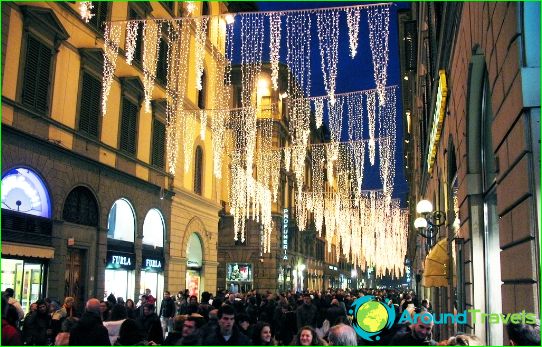 Tourists who find themselves for the first time in Florence,probably it will not be able to look up from its palaces, churches and squares. The city is so beautiful and full of attractions that specifically set aside time for shopping impractical. Is that after the visit to the museum to look at the gift shop and pick something to remember. Another thing, if your stay in Florence is delayed, or if you are not the first time. Then we can think about buying anything made of leather or jewelry. It is for this category of products are sophisticated hunting tourists.
Gold and jewelry
Ponte Vecchio - the old bridge, dainty placefor those looking for an exclusive Italian bracelets, earrings, brooches, pendants and other lovely things any woman of precious metals and stones. Do not forget about the jewelry shops in urban alleys. On the bridge, the buyer will find a huge selection in one place, but it is likely to lose as a commodity. The small shop is less likely to buy a low-standard jewel.
«Il Florino» - gold jewelry salon. His host is a scion of the famous Florentine family name Perucci. This name is associated with the ringing of the Italians gold florins. Perucci ran the affairs of the Mint, once stamped his own city a gold coin. Now their store bursts with ornaments of various kinds of precious metal.
Near the «Il Florino» Piazza Santa CrocePlace two jewelry salon «The Gold Corner» and «Gioielleria Aurea». The first sells products of own production, the second creates a range of products from the most popular Italian factories «Arezzo», «Vicensa», «Foppi», «Uno Erre». Masters of Tuscan factories «Arezzo» - adherents of the old traditions. «Vicensa» Venetic factory prefer modern trends. Brand «Foppi» produces stunning luxury in a traditional Florentine style, using an interesting technique for the production of matte gold interspersed with particularly shining points. In one product metal they often use different colors. It is the product of this factory are the most popular among visitors to the city. Italians prefer white gold brand «Uno Erre».
Little goldsmith workshop Marco BaroniIt differs not at all small prices. The owner is a master of his craft, produces highly artistic decorations in a single copy for their own designs or custom. It's clear that the majority of travelers can only enjoy the products in the shop window of famous masters. Located somewhere between Santa Croce and Ponte Vecchio.
Leather products
The choice of leather goods in Florence candizzy, so a lot of it. Cheap bags, gloves and purses local production offers the market next to the Cathedral of San Lorenzo. As always, the market should be very attentive to the quality of the goods and sensitive to all kinds of deception. However, in this market any customer can find a leather thing on your wallet and taste.
Photos Florence stores