Environs of Florence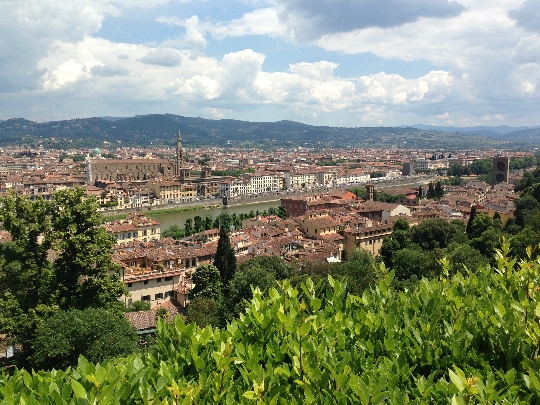 Gorgeous and inimitable Florence gave the worldMichelangelo, Dante and Leonardo da Vinci. Her old dialect formed the basis of the modern Italian language, and a native of Amerigo Vespucci glorified their homeland in both hemispheres. Environs of Florence full of Tuscan charm and are ready to share it with every traveler who have decided to take a stroll through the green hills and cypress groves.
Tuscan merchant
Glory of the commercial city of Tuscany gained withIt has long been a suburb of Florence, Prato, located in a pair of tens of kilometers to the northwest. Its historic center was an ancient fortress in the shape of a hexagon, which is carefully protected today and residents, and the government.
The first castle appeared here in the tenth century and sincePrato then over the next several centuries tried to protect its independence from the encroachments of the Florentine. Today, the main architectural attraction of the city is the magnificent Duomo - Cathedral of the XV century, lined with white and dark marble and decorated with frescoes by Lippi work.
The long history and evolution of the textile industry covers in detail the local museum and the Palazzo Alberti built the XII century awaits guests an art gallery with paintings by Bellini and Caravaggio.
floral kingdom
All the suburbs of Florence in its own picturesque andcolorful, but Pistoia among them - a rare gem in a beautiful necklace. For decades, the noise here the flower market where you can buy beautiful bouquets, plants, seeds, bulbs and hundreds of items related to the art of floriculture and horticulture. However, serious cases Pistoia, too, were not strangers! On behalf of the town were called pistols - tiny daggers manufactured in the suburbs of Florence. Later the "pistol" word became known as guns, because it is in Pistoia invented trigger.
Fans of Italian architecture is something to look at in the pretty town of Tuscany:
Stone tower of VII century survived from the first ring of defensive city walls.
The octagonal baptistery impressive asPisa. Its facade is made of white and green marble, and the statue of John the Baptist belongs to the great master and Andrea Vacca karranskogo carved out of marble.
Kampanilla Duomo rushes into the sky at 67 meters. Its bells and today beat off time, and from the height of the observation platform, breaking the 200 steps, you can see a wonderful panorama of the suburbs of Florence.
Photo