Airport in Genoa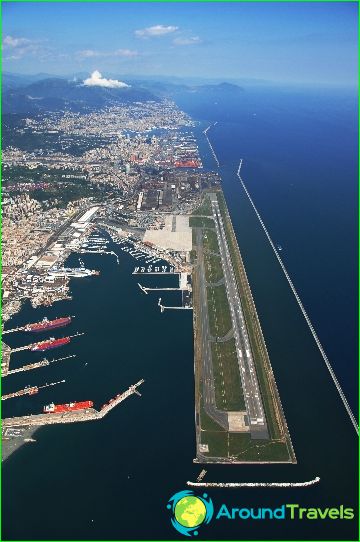 The international airport in Genoa of the greattraveler Christopher Columbus, is located on an artificial peninsula in the 6th ikilometrah from the city center. Quality service and location with easy access to the airport ground transportation makes competitive with tour operators and airlines in the world.
The airline is able to receive all types of aircraft without limitation and serve more than 10 million passengers a year.
Airport successfully cooperates with 15the airlines of the world, which carry out air transportation in Barcelona, ​​Brussels, Catania, Cagliari, Istanbul and other cities in Europe and the Middle East. Every day from the airport to Genoa flights depart almost 40 directions and to different countries of the world.
Tools and Services
Like many European airlines,Airport Genoa provides all the conditions for the comfort and safety of passengers. Provides voice and visual information on the movement of vehicles, there are help desks where you can get detailed information in several languages, including Russian. Time for registration and baggage check as much as possible reduced.
There are lounges in the areas of arrival and departure of passengers. The airport has an internet café, food items are organized - a cafe and a restaurant serving Italian cuisine, there is a smoking room.
For passengers traveling vip-class,Hall seems superior, offering satellite TV, buffet breakfast and free internet. Ordinary passengers can also buy tickets to enjoy vip-room services, the ticket price is 10 to 25 euros.
Passengers with reduced mobilitymeeting and provided support, as well as special medical equipment and mobile devices for movement on the airport and boarding the aircraft.
Provided hour security Airport. On the forecourt provides for paid parking of vehicles.
passage
The airport has a platformrailway line, where every 30 minutes there is a train, next to the center of Genoa. An alternative to the train could serve as coaches, parking which is situated near the railway station square, the city or a taxi. organized work also car rental at the airport.
Photos of Genoa airport