Beaches in Genoa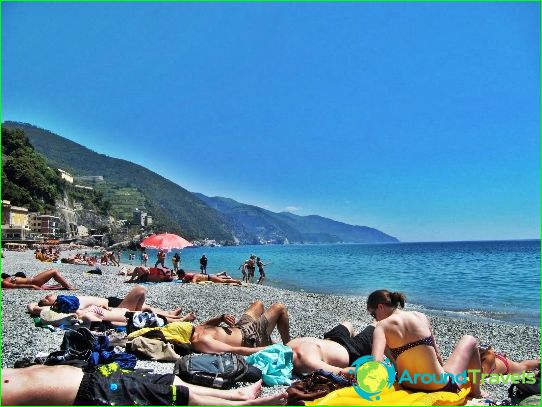 This ancient Italian town know it seemsall students. But apart from its famous attractions, the modern Genoa is famous for its coastline and more. It seeks a large number of admirers sunbathing and swimming. And it's not only Italians, but also visitors from abroad. The truth is the fact that Genoa from time immemorial is the major port all over the country, in the city so few clean places suitable for a relaxing holiday.
Western beaches
Nevertheless, the beaches of Genoa take tourists annually. One of the western beaches is in the Pegli area, the other - on the edge of town, in a remote area of ​​Voltri. This location
Eastern beaches
In the east of the city beaches stretch along its mainwaterfront. They are stony, but the infrastructure is fully aligned with all modern requirements. For a chain of waterfront beaches continues. It stretches along the entire east coast of the city. It is small and very secluded place, but they have won popularity among the townspeople.
Country rocky beaches
Top rocky beaches still are behindoutside the city limits. East of Genoa nestles the small town of Bogliasco. Local rocky beach - small, it comes down to a small, but quite steep stairs. Side by side there is another beach, more sizes, but just the same with free shower.
Another favorite spot among lovers of beachleisure - a town of Pieve Ligure, which is located just a few kilometers from Genoa. And here beaches rather rocky, but the water is so pure that attracts bathers. On hand to locals playing and plenty of entertainment, as tourists are leaving their accumulated savings for the year. Also of note is the beautiful beaches in Sori, Camogli and Recco, some of whom are private. Apart from the beaches there are many shops, restaurants and cafes.
Rural sandy beaches
High demand always enjoyed the beaches,located in Santa Margherita Ligure. They are wide and covered with golden sand, there are stunning views of the beautiful mountains surrounding the city. On these beaches is a huge number of tourists in the summer months.
Also on the way from Santa Margherita Ligure toworld famous Portofino can see many small and quite secluded beaches. At the same the Portofino, surprisingly, there is no beach, but this place, like nowhere else, you can feel the atmosphere of refinement and elitism.
There are more beautiful beaches in Lavagna, Zoagli, Chiavari and Sestri Levante, only here to get there from Genoa, will have to spend from 1 to 1.5 hours.
Photos of Genoa beaches