Christmas in Genoa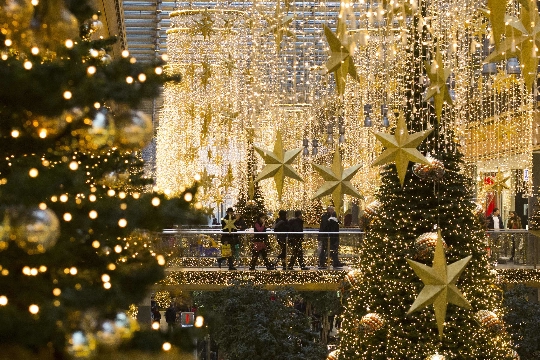 Mark Christmas in Genoa - so get ina city in which the party atmosphere and fun! In addition, during the Christmas holidays the capital of Liguria offers to go on interesting excursions.
Features of the celebration of Christmas in Genoa
Preparing for the holiday is the decorationhouses and streets with garlands and colorful LEDs. December 8 decided to install a Christmas tree. On the same day, in homes, churches and on the streets appear prezepio ( "dens") - sculpted scenes that depict the birth of Jesus. To ward off evil spirits, Italians hang on their doors fir wreaths decorated with the help of red berries and red ribbons.
Christmas Eve (24 December), the Italiansvisit the temples of the Mass, and the Christmas dinner consists of fish dishes, such as fried or grilled eel, turkey, lentils, capon stuffed with apples, chestnuts, nuts and different herbs, and sweets (panettone, struffoli), and a table decorated with red and yellow candles in candlesticks. Tourists who choose to spend Christmas Eve in one of the Genoese restaurants can head for this purpose in the "Da Guglie", "Mario Rivaro" or "Da Genio".
Entertainment and celebrations in Genoa
Genoa offers in December (18-21number), just before Christmas, to take part in the celebration of the festival of circus arts and street theater (Circum navigando): concert venues, the city's main streets in the old port PortoAntico and numerous theaters, they will wait for the colorful music, circus and children's performances of eaters fire, jugglers, acrobats, gymnasts, clowns. During the festival, you can visit the book fair Fiera del Libro - this sale you can buy books, brought from different countries.
Who can take part in a special tour, involving inspection of nativity scenes (with a guide you will visit the church and the city streets, which shows scenes of the Nativity).
Christmas Market at Genoa
Travelers interested in Christmasfairs in Genoa, you should look at the fair, opening in early December in the exhibition center "Fiera di Genova". Here you will find pavilions, which involves the sale of souvenirs, gastronomic (meat and sausages, cheeses, sweets, wine) and Christmas merchandise goods (Christmas decorations, figurines for the Christmas scenes, etc.). And here you can allow your children to trust local masters - they will learn to create their own hands Christmas toys and decorations.
Important guests Genoa can earn another Christmas market - it opens from 8 to 23 December on the Piazza Matteotti, where you can buy interesting souvenirs and artisan crafts.
Photo