Genoa Suburbs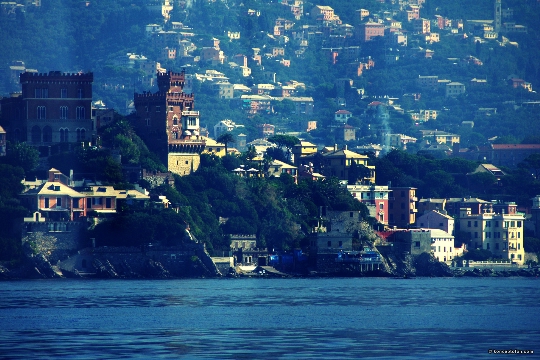 The center of the Ligurian coast of Italy, GenoaIt is one of the most popular tourist centers of the country. Concentrated in the region, cultural and architectural monuments, taken under the protection of UNESCO, are of great interest for the traveler who is interested in history. Beach lovers are sure to draw the local spas, considered to be one of the best in Europe. At the suburbs of Genoa is a large metropolitan area and has its own international airport.
The Pelli for a walk
West of Genoa Pegli suburb town with a longthen, like aristocrats - the first local villas appeared in the middle of the XIX century. Today, the local promenade you can meet movie stars and politicians, and the two famous old houses Pegli turned into a museum of European importance. The Museum of Archaeology of Liguria region, located in the Villa Durazzo-Pallavicini, exhibited valuable exhibits Etruscan and Roman periods, and a collection of antique vases were presented to the museum a gift Prince of Savoy.
Not less popular exposition of the Naval MuseumPelli. It is located within the walls of the villa Chenturione-Doria, whose construction began in the XVI century. Numerous exhibits, including - models of medieval courts, talk about the history of navigation development. Genoa role in the development of new land has always been a huge, if only because it is here that was born Christopher Columbus.
In Tsvetaeva places
This Genoa suburb renowned for spectacularparks, where city residents like to come for the weekend. Get in Nervi is easiest by train from the city train station, the travel time will not exceed 15 minutes.
The narrow road along the sea, built over the rocks,- A local promenade, named after Anita Garibaldi, wife of the national hero of Italy. Scenic cliffs and blue sea form the gorgeous landscape, for which in Nervi coming photographers, artists and just romance. But fans of Russian poetry very well that in this suburb of Genoa, spent the winter 1902 Marina Tsvetaeva.
In the old port
The Genoese were always skilled navigators andbecause even the local Aquarium is designed as a ready-to-ship descent. Research and Exhibition Center opened in the suburbs of Genoa in 1992 and is located in the city's old port. That's when the world marked by Christopher Columbus quincentenary opening of the New World, and therefore the exposure of aquarium-museum includes not only the inhabitants of the Ligurian Sea, but also the flora and fauna of the North Atlantic and the Caribbean.
Photo