Tours to Genoa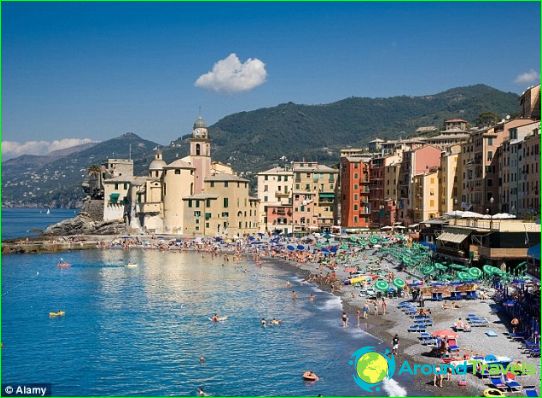 The international airport of Genoa is not Italianaccident bears the name of Christopher Columbus. The great navigator who discovered the New World and give Europeans the new lands and opportunities, was born in the town on the Ligurian coast, and glorified hometown forever. And yet here we preserved the magnificent palaces of the nobility of the XVI century, listed in the UNESCO list of World Cultural Heritage, and therefore reasons to go on tour to Genoa in the modern traveler more than enough.
History and geography
The tiny Greek colony in ancient timesIt marked the beginning of the modern metropolis. Then the tribes of Ligurian fishing village was razed to the ground the soldiers of Carthage, to be reborn under the auspices of first the Ostrogoths and then - francs.
In the tenth century Genoa becomes an important tradeimportance as a major Mediterranean port and the surrounding residential areas are being built to strengthen, not just save its inhabitants from enemies and lovers of easy money. The influential maritime republic during the Crusades and decadent era in the late Middle Ages - the city has seen a lot and lived in his time, today to participants of tours in Genoa could admire its historical and architectural monuments and the special atmosphere of ancient and eternal traditions.
Briefly about the importance
Subtropics and the proximity of the sea is determined weatherGenoa and guarantee its residents and visitors a hot summer and a rather cool winter. Warmer just here in July and August, when the thermometer rises to +30, and cool in January - up to five. Rainfall is most falls in October, January and March, but April and May - the best time to travel to Genoa.
Fly to Genoa easiest way through Rome, Milan and other European capitals, and accessible from the airport, a few kilometers from the city center by bus or taxi.
Metro Genoa - it's just a dozen stations, however,they are located in close proximity to the main cultural and architectural objects meaningful. Not less popular buses, tickets for which are sold in automatic ticket offices at stations and tobacco kiosks. A travel the whole day will help save significant costs of transport, if the plans - multiple transplants.
The main cooking chips, which are worth to taste during the tour to Genoa - pasta with pesto Genovese and pie Focaccia with olives.
Photo