Christmas in Milan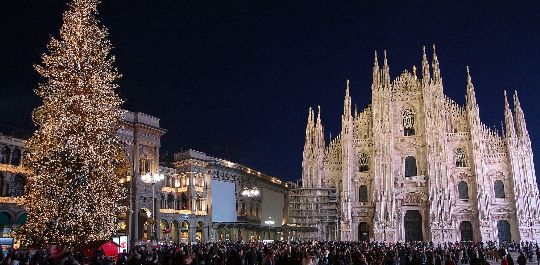 Resting on Christmas in Milan, you will see how to transform the city, namely - as city streets come to life and illumined by thousands of colored lights.
Features of the celebration of Christmas in Milan
Before Christmas (8 days before the holiday)appear dzamponyary who walk through the streets, singing songs, playing musical instruments, arrange a mini-performances. Occasion Italians dress up a Christmas tree, hung everywhere garlands and wreaths of fir branches, decorating them with sprigs of holly and berries.
In Italian families on Christmas tableexhibiting a turkey stuffed with veal, apple, walnuts, chestnuts, bacon, pear, herbs, brandy; smoked salmon; lentils (considered the more you eat it, the richer will be the following year); homemade cappelletti; Christmas cake (panettone) with candied fruits, nuts, spices, raisins. In addition to various sweets on the table there are also Christmas nursery from gingerbread dough. The tourists on the Christmas dinner can head to the restaurant "Casanova" - where they will be able to feel the Christmas atmosphere while enjoying the traditional Italian dishes.
Entertainment and celebrations in Milan
Milan bored - in idle time waiting for guests shopping malls and specialty shops, as well as the Christmas markets.
To find the wonderland ( "Villagio delleMiraviglie "), you need to go to City Garden Indro Montanelli - then you will have to wait for shopping, the house of the local Santa Claus (Babbo Natale), ice skating rink and a fair where you can buy Christmas gifts and Christmas tree decorations.
Throughout the winter, you can visit a variety of opera at La Scala theater.
January 6 at Milan is to look at the procession of the Magi (the most ancient tradition of the city).
Christmas markets and fairs in Milan
Milan offers to visit the Christmas MarketL'Artigianoinfiera - pacing from one pavilion to another, visitors will be able to buy clothes, gastronomy (you can taste Italian cuisine), accessories from the best artists of different countries and regions.
On the street Paolo Sarpi in the middle of December isvisit the event dedicated to the world of Christmas "Sarpiintown": this street will be a real Christmas village with music, retailing, and traditional cuisine.
Another interesting fair is the "Oh Bej! Oh Bej ":! On it you can get the products and articles of apprentices, craftsmen, masters of wrought iron and copper, florists, artists, manufacturers of toys, books and printed materials.
As for the winter shopping, the winter sales start after Christmas - in search of the necessary items you can go shopping, located along the streets of Montenapoleone and Manzoni.
Photo