Prices in Milan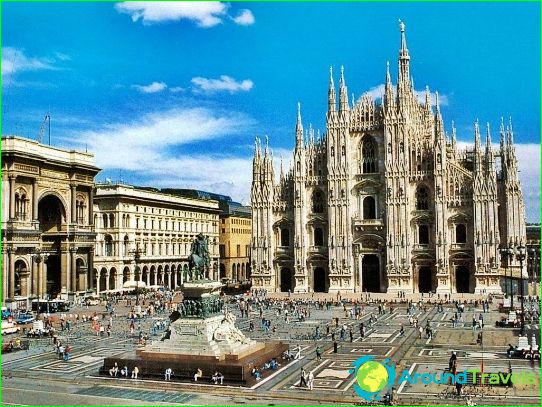 Milan is a very interesting and crowdedcity ​​of Italy. It is an industrial and business center of the country. Prices in Milan may seem high. Here are the central offices of many world famous corporations. On the territory of the exhibition held annually in Milan, which bring together people from all over the world.
Accommodation
When choosing a hotel, consider the main purpose of hisvisit. This may be sightseeing, shopping or business trip. Depending on the selected target area of ​​residence. In addition, great importance is the budget. A popular place in town is the district, lying next to the cathedral Duomo. Hotels there side by side with good shops. Local attractions at hand, and can be reached on foot within 15 minutes to the shopping area. This area is quite expensive. Hotel room costs from 130 to 250 euros per night.
To the north of the Duomo is the quarter of fashion orQuadrilatero d'Oro, where the luxury boutiques of the fashion houses. Some of the hotels in this part of the city belong to popular brands, so the rooms have the original finish of the designers. Spend a night in a luxurious room of the hotel is 500 euros.
Food in Milan
Eating in restaurants is expensive. During shopping you can eat in a fast food restaurant. The main product it serves mozzarella. Shopping is better in the central part of the city. Thousands of people daily visit the main Milan's Piazza Duomo, where there are many shops. Excellent selection of Italian dishes with mozzarella eat in the restaurant, which is located in the department Rinashento, on the top floor. Eat together here is 20 euros.
In the evening, many bars offer Milanhappy hour: a small flat fee to the visitor offer a variety of snacks and alcoholic cocktail. In the cafes of the city, you can order a pizza for 5-6 Euros. To dine in a normal restaurant, it is necessary to spend 30 euros per person.
Excursions
Cost of tours in Milan acceptablefor many tourists. Sightseeing tours provide an opportunity to get acquainted with the famous architectural buildings, museums and exhibitions. The cost of the review in Milan tour, which lasts 3 hours is 120 euros. During the tour visitors are introduced to the theater La Scala, the Duomo, Galleria Vittorio Emanuele II, and other objects. Any Milan attractions can be visited independently. But the best way to see the city with a guide who will tell you the history of each object.
Milan
Photo