Shops and boutiques in Milan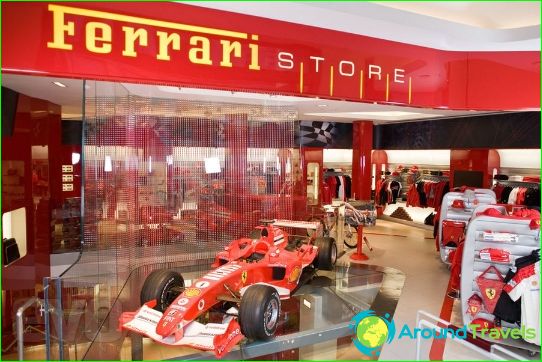 Milan - one of the fashion capitals of the world. Living in a mild Mediterranean climate, close to the sea, among the vineyards or surrounded by monuments of different ages, it is impossible not to do wonderful things.
Milan attracts a huge number of shopaholicsin seasonal sales. But in a less "hot" time items Italian brands are a third cheaper than in Russia. Choosing fashionable things beyond praise.
Shopping-class "luxury"
Gallery Vittorio Emanuele II connects the areaThe Duomo and La Scala square. Beautiful work of architecture was built under the patronage of the King of Italy Vittorio Emanuele II. Here rows of boutiques are located most luxurious brands. Take a break from shopping can be in one of the many famous restaurants and cafes. If you are lucky, you can go to a concert or a fashion show, which is not uncommon. Not far from the open-air Gallery Vittorio Emanuele II directly on the streets of the city are the Milan fashion week shows.
La Rinascente is located at Corso Vittorio Emanuele II. This huge building is completely set aside for the "main" Milan store. It has everything!
Ferrari store - brand store in the ScuderiaPiazza del Liberty, where the blinds from the traditional red. A great place to buy gifts. Do not forget about the form of proprietary and Inter Milan clubs, it is better to buy in the area. China is a fake can be found in any market.
Pinocchio - shop on Via Tommaso Grossi, you can buy traditional Italian souvenirs, especially wooden figures boy with a long nose.
"Fashion Square" is located to the north-east within walking distanceConnected to the Duomo between the streets of Via Monte Napoleone, Via Sant'Andrea, Via Alessandro Monzoni and Via della Spiga. Take a walk through the main streets of the city, to satisfy their craving for the aesthetics of seeing the architecture of houses of celebrities and luxury showcases Dolce & Gabbana, Gucci, Versace, Valentino, Bucellati, etc., and if your wallet stand, you can buy clothes, shoes, accessories or anything of antiques. Here are a lot of fashionable exhibitions of furniture and decoration objects.
Italian Style Bohemia
Streets Via Brera and via Madonnina - here, too easilyget there on foot from the Duomo. Milan's artists, students, journalists are often called "Montmartre of Milan" .Tovary you can buy the appropriate style of creative individuals - paintings, hand-made trinkets, antiques, original clothes. There is, for example, the boutique is absolutely personal and in no way are not guided by trends Patricia Pazetto. Guests can relax in the iconic cafe.
Navigli - very interesting flea market,Located along the promenade of the same name the channel, working on the last Sunday of each month. In the remaining days interesting to visit numerous shops, cafes and studios in search of unique items.
Outlets
They set in the vicinity of Milan, enjoyvery popular among tourists. Serravalle - the most hyped, there about 200 stores. It offers products last year's collections, or even passing year makes "luxury" and casual style sportswear. Wider than most shopping centers are products for men. It has everything needed for a comfortable shopping experience, including a studio for fitting clothes.
Photos of Milan shopping