Holidays in Milan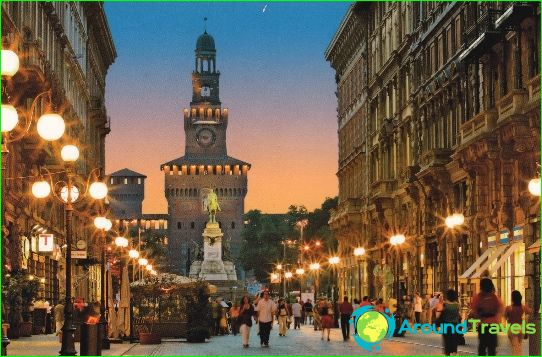 Holidays in Milan - a chance to see outstanding buildings of world architecture, go on a successful shopping, to visit fashion shows, Italian cuisine ...
The main types of recreation in Milan
Sightseeing: programs include the commission of walks around the neighborhood Quadrilatero della Fashion (here you can buy clothes of famous brands) and Cathedral Square, visit the Royal Palace, the Teatro alla Scala Opera, the Duomo (here you will learn about the history of the building and what masters took part in its construction ), Sforza castle, the monastery of Santa Maria really Grazie (here it is worth to admire the fresco "The Last Supper", created by Leonardo da Vinci), Pinacoteca di Brera, San Siro stadium, visiting the Galleria Vittorio Emanuele II.
Active: Anyone can have fun at the night clubs "L'Angelo Nero", "Alcatraz", "Gasoline" (lovers of dance shows and theme parties), "American Disaster", a stroll through the ancient and mysterious dungeons Sforza castle, play golf at equipped fields, go canyoning (in the summer months are made slopes in Acquaduro gorge), frolic in the water rides in the water park "Gardaland".
Event: if you wish you can visit the festive procession on the Annunciation (6 January), Carnival "Carnival Ambrosian" (Spring) Flower Fair "Fiera dei Fiori" (April), on the Day of the Assumption (Aug. 5).
Prices for tours in Milan
The ideal time to visit Milan -April-May, September and October (the price of its appeal are pleased at this time). Despite the fact that summer is quite hot this time of year is considered high season, so the tours in Milan increased markedly. Although the winter season is considered to be relatively low, the price of tickets to the Italian city increased during the Christmas holidays, in the season of sales (January) and during Fashion Week (February).
On a note!
Before any attractions can be reached bysubway or bus. But before visiting the religious sites should clarify where to go to get the best on the tour because at lunchtime and during worship, they are closed to tourists. It's worth noting that many restaurants, banks and other institutions do not operate from 14:00 until 16:00 (siesta).
Do not try to "catch" a taxi in the street - local drivers will not stop the car in the wrong place: to this end, should move to the nearest transport stop.
Seasoned travelers are advised to bring outMilan's fashion footwear, apparel and accessories, and fur coats, a small copy of car models, designer furniture, Murano glass, carnival masks, Italian cheese, wine, olive oil.
Milan
Photos vacation in Milan