Milan Streets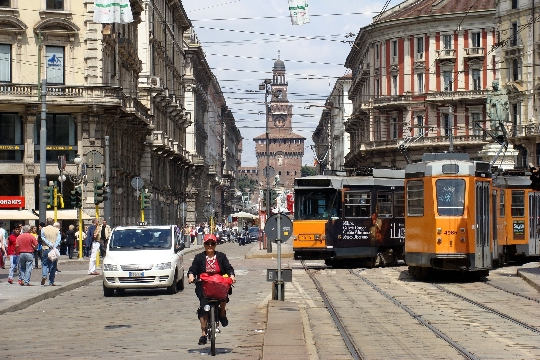 Milan is considered the fashion capital of Europe. He is known for its prestigious shops, restaurants and architectural landmarks. The city has many old buildings, constructed in accordance with the Italian tradition. The primary targets for the tourists are the Cathedral, the Museum of Leonardo da Vinci Museo Poldi Pezzoli, and others.
Milan is built on a radial-circular principle,as well as Moscow. Streets radiate from the center to the outskirts, and pass through the ancient boundaries of the village, which had previously been fortified walls. Milan is a crowded, bustling city with the urban landscape. In its architecture mixed different styles.
Via Montenapoleone
For the main streets of Milan belongsMontenapoleone. She goes through the fashion district. It placed popular houses boutiques of high fashion. This feature puts it in some of the most expensive streets in the world. Via Montenapoleone is located in the historical part of the city. It has a length of about 500 m. One-way traffic from the intersection with Via Sant'Andrea going in different directions. Street sidewalks devoid of greenery. Almost all the buildings occupied by expensive shops offering fashion apparel, accessories and shoes.
Dante Street
Significant Milan pedestrian zone - street Dante,which runs through the center. It is the link between the areas of Largo Cairoli and Cordusio. Dante's famous ancient buildings, palaces, luxury restaurants, cafes, theaters and prestigious shopping. Beautiful houses along the street were built in the 18-19 centuries.
Next to this street is the main squareMilan - Cathedral Square. It is surrounded by famous sites: the Cathedral in the Gothic style, cinemas, the city theater, the best shops. On the square is a building of the City Hall. From the roof of the cathedral has a beautiful view of the city. Climb there can be by lift or stairs.
Street Della Spiga
The exclusive place of Milan considered Della Spiga. It is the center of high fashion and shopping. The street stretches for 520 m. And has a curved line. She repeats the outline of the defensive walls of the ancient city. The bridge is constructed from cobbled stones. Cozy street has retained its historic appearance. Traffic on Della Spiga prohibited, so nothing prevents to enjoy shopping. At this point, there are over 70 boutiques and interesting architectural objects.
Photos streets of Milan