Taxis in Milan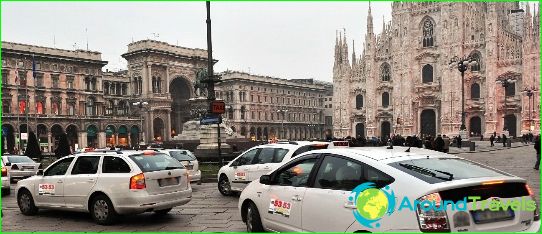 Official taxis in Milan - cars, painted in white, with a burning sign on the roof and a sign "Servizio Pubblico".
Services Milanese taxi is not cheap, but sometimes a taxi is the only way to get to your destination, which does not go to public transport.
Features taxi in Milan
Catch a taxi on the streets of Milan is not accepted (it is unsafe and costs more) - on his quest advisable to go for special parking or order it by telephone.
Ordering a car over the phone (in this case,be prepared to pay idle run - a distance which overcomes the driver, getting to you, so profitable to go for a taxi to the parking lot), you dictate the ID-number of a taxi (it is written on the car doors), which will call for you. You can come in handy the following phone numbers: + (39 347) 825-74-40; + (39 02) 344-000.
You, as a tourist, it is necessary to insist on the meter is turned on (drivers do not like to use it) - in this case the trip will be cheaper.
you can take advantage of this, if desiredservice as rental car with a driver (available in the main car business class in different colors with the inscription on the back license plate NCC) - because the fixed price for this service is not present, the driver and passenger can always negotiate.
The cost of a taxi in Milan
If you are interested in, how much is a taxi in Milan, it is advisable to familiarize you with the rates:
ordering a taxi by phone, it is worth considering that during the call you will pay 2 euros;
planting and the first 3 km will cost about 6 euros, and the next will be charged the price of 1 euro / 1 km (breaking the 10 km of track, the next will be paid at the rate of 1.6 EUR / km 1);
nightly rates (22:00 until 06:00) is more expensive day by 30%, but single women traveling in a taxi at that time of the day, enjoy a 10% discount (this should remind the driver);
Baggage will have to pay 1 euro an hour waiting - 27 euros, 13 seconds of waiting - 0.10 euros.
If you are interested in travel costs, creditcard, it is worth considering that not all taxis offer this service - it's worth asking the driver before boarding or tell the dispatcher when ordering a taxi on the phone that you are interested in a taxi with the possibility to pay by credit card.
Council: with you always need to have a little money, because taxi drivers strive to keep the change, if the customer has a large bill (with regard to tip, the taxi drivers decided to leave Milan at the "tea" 0.5-1 euros). In addition, in order not to be deceived, a taxi driver, you can not hesitate to request a written list with the prices.
Using a taxi in Milan, you do notYou will need to think about the travel time Milan's drivers are true professionals, able in a short time to bring you to any destination.
Photos Taxi in Milan