Shopping in Milan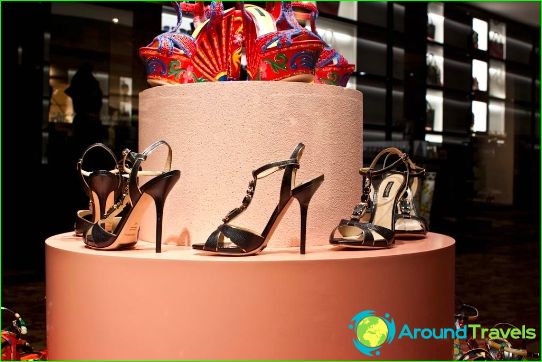 Milan - bright and vibrant city-museum,city-monument, the football capital of Italy, and of course, the city trendsetter. The main advantage of shopping in Milan in the first place is the lower prices for things Italian manufacturers.
Most shops are located in Milanonly four urban areas. The most expensive and fashionable district - a district with streets via Manzoni, via Spiga and via Montenapoleone. Almost all shops are concentrated on this street sell only expensive and prestigious brands - Armani, Dior, Brioni, and so on.
The main mass of shopping that tourists bringMilan - a fashionable clothing, high-quality shoes and bright accessories. In addition, the city decided to acquire more and furniture. There are many shops in the Milan and its surroundings, representing the designer furniture (tables, kitchen furniture, chairs, sofas, cabinets). In the center of the Italian city, you can find a huge number of incredibly beautiful and useful design things.
What can you buy for yourself in Milan:
Wedding and evening dress. On the eve of an important event in his life, it is recommended to visit the chic shops and Pronovias Le spose di milano, located in the heart of Milan. Here you can buy beautiful and fashionable dress that will make the holiday brighter and more memorable.
Jewelry. Milan - a true paradise for lovers of jewelry. The best decorations are available at the Corso Vittorio Emanuele street. It is here you will find a huge number of boutiques offering a wide selection of jewelry. As in Italy, in Milan you can buy unique jewelry from Murano glass.
Fur coat or sheepskin coat. In Milan, presented a decent selection of fur and sheepskin coats. More expensive are Barguzin fur, cheaper - chinchilla, sable, mink and fox. For shopping should be sent to the factory in spachchi or showrooms.
What to bring as a gift from Milan, relatives and friends:
Coffee maker. Tea Bialetti - it is a symbol of Milan. It is a miracle of technology has a stainless steel housing, elegant form, to the same data many years of distinguished service coffee machine.
Clothing and footwear brands. Milan - the capital of Italian fashion. There are many stylish clothing from Byblos, Dolce & Gabbana, Giorgio Armani, Tiffany, Helmut Lang, Roberto Cavalli, Vicini, Von Dutch, and other trendsetters, and at reasonable prices.
Carnival masks. Italian carnival mask - a real Milanese gift that will long recall this beautiful city-festival.
Italian hard cheese - Parmigiano, GorgonzolaDolce, Grana Padano can be found in every grocery store Milan at reasonable prices. In cheese production the Italians do not use any preservatives, and the speed is up to two years.
Besides all of the above, the specialpopular with tourists, who have visited at least once in Milan, enjoy: Italian olive oil, candy and chocolate, coffee, wine and grappa, souvenirs, items with the symbols of football teams Milan and much, much more.
Milan
Number of Photos in Milan