What to do in Milan?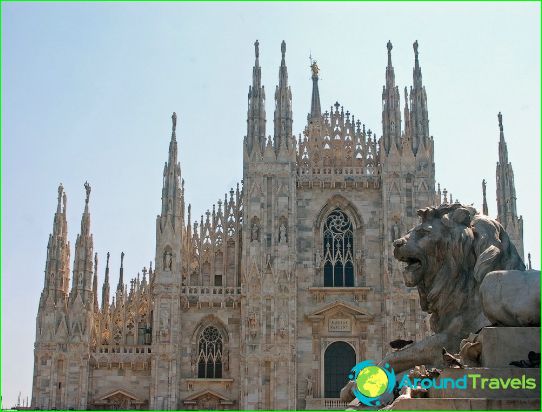 As a fashion capital, Milan offersIt offers excellent opportunities for shopping (there are well-known shops and boutiques). Moreover, Milan is famous nightlife and unique attractions.
What to do in Milan?
Climb to the roof of Milan cathedral, the Duomo;
Visit the church of Santa Maria delle Grazie (you will see the famous fresco "The Last Supper", painted by Leonardo da Vinci);
Buy anything you wish to Papiniana market;
Go to La Scala.
Things to do in Milan?
Taking a walk in Milan, you can go to the Sforza Castle, the Church of St. Lorenzo, Museum Poldi Pezzoli (here you will see a collection of rare paintings and weapons), to visit the Basilica of Sant Ambrogio.
Nightlife in Milan presented and barsclubs for all tastes. Dance to the fiery music and see well-known DJs in night clubs can Alkatraz, move to the music of 70-80s can be in American Disaster club and rock fans definitely need to go to the club L'Angelo Nero. This club is built in a Gothic castle here and even cocktails have names, continuing a grim subject - "Black Angel", "Blood of Satan."
With children, be sure to go to the parkGardaland amusement. There are rock gardens, flowers and fountains, theme restaurants, recreating, for example, the Middle Ages and the Wild West. By purchasing an interactive map, the children can go on a treasure hunt - on the way they meet singing animals and characters from famous cartoons and children's programs.
Shopping in Milan
Milan - fashion-capital, so here it is possible andYou need to buy a lot of fashion items and accessories (for this purpose in the city worth visiting in season sales - after January 7 and July 10). For example, you can go to the quarter Quadrilatero d'Oro, where the studios and shops of leading brands (Prada, Versace. Armani, Dolce & Gabbana).
Outlets can be found both in the city and for his feature. So, going in Serravalle or of Franciacorta, you can buy designer clothes, perfume and jewelry with 30-70% discount.
Buy designer clothes at low prices can be in Milan discount, for example, on the streets of Corso Buenos Aires and Via Vitruvio.
Buy souvenirs, hand made, antiques can be on a large Sant'Agostino market.
If desired, you can go on tour with a visit to the factories with the aim to buy a fur coat or sheepskin coat: during the trip you will visit the 4-5 Milan factories, producing fur.
Arriving in Milan, you can listen to an opera at La Scala, go on interesting excursions, relax in the parks, stroll through the charming shops.
Milan
Photos where you can go to Milan