Where to eat in Milan?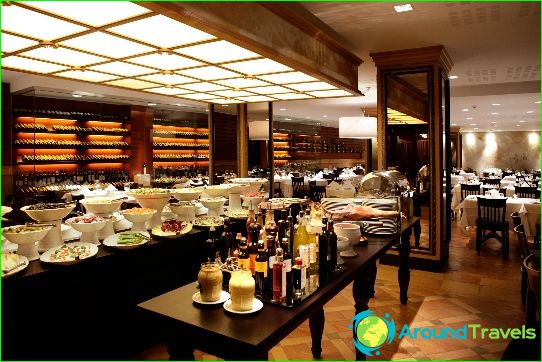 It is not necessary to worry about where to eat inMilan, because the city has more than 4,800 cafes, pizzerias, restaurants, bars and other catering establishments. As for the menu, the restaurants and cafes of Milan you'll find pasta, risotto, pizza, pork dishes, veal, fish and seafood ...
Where to eat in Milan cheap?
Cheaply you can eat in the many fast food establishments. But if your goal - often tasty pizza snack, go to the pizzeria Maruzella (average score - 10-12 euros).
For inexpensive and delicious dishes you can go to a trattoria (in most of these institutions can dine 10-15 euros).
It is necessary to look at the Trattoria Pizzeria daMartino - here you are waiting for the high quality dishes (chicken in white wine, rabbit Ligurian, escalope Milanese) at affordable prices (the average score - 20-25 euros).
Where to eat in Milan delicious?
Unico: This restaurant offers its guests to taste exquisite cuisine - truffles, porcini mushrooms, carpaccio and other tasty treats. In this restaurant you can reserve a table, from which you can watch as the chef will prepare a dish you ordered. The uniqueness of the institution lies in the fact that here you can visit the master class, and every Sunday - the thematic brunch (visitors give the opportunity to try traditional dishes typical of the different Italian regions).
Picasso: visit the cozy Italian restaurant, you will be able to order, both classic and gourmet dishes (risotto with oysters, braised octopus, mint ice cream). It's worth noting that the restaurant is closed on Mondays.
Il Luogo di Aimo: in this restaurant you can not just eat (pasta with cocoa beans, Tuscan porcini, lobster in almond sauce), but also enjoy the local amenities (in an institution established many sculptures and paintings).
Giacomo Arengario: This restaurant's menu will please lovers of nautical gifts - here you can order dishes from lobster, oysters, crabs, salmon ... lunch or dinner at this restaurant, you can admire the panorama of the area from here to the Duomo.
Glandestino Milano: This restaurant serves "Italian sushi" that are made from rice Carnaroli, and seaweed and wasabi are replaced with olive oil and cheese burrata. In this place you can order such unusual dishes as edible toothpaste and mint "mouthwash" (he plays the role of a beverage).
Gastronomic tours in Milan
During a gastronomic trip, youvisit the master class Italian cuisine (will be able to prepare 3 dishes), as well as visit the delicatessen "Peck" - here, depending on the season and your taste preferences, will organize a wine for you, tasting different cheeses, risotto and other specialties (wine will be accompanied by a story about the history of the store).
Resting in Milan, you can go tojourney through the surrounding area to become better acquainted with Italian culinary traditions (you visit the pasta factories, bakeries and wine cellars, farms specializing in milk production release).
Photo