Zoo in Milan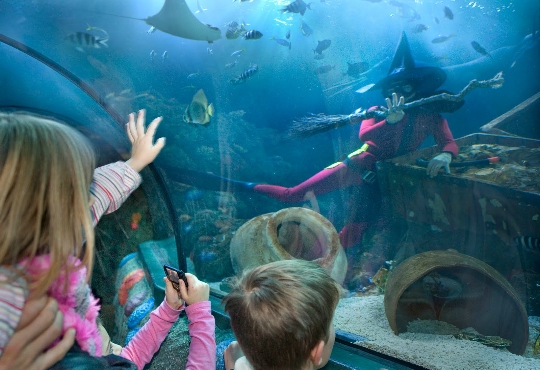 Fans of zoology, despite the lack ofZoo in Milan, will not be left disappointed. In the capital of Lombardy operates one of the oldest aquariums of the world, and even the building in which it is located, is in itself a local landmark. Last reconstruction of the facility was completed in 2009.
Acquario e Civica Stazione Idrobiologica Milano
Name aquarium in Milan is familiar not only ordinary visitors, but also biologists. The local library - one of the largest collections in the least scientific papers on marine life.
Pride and Achievements
The collection contains dozens of aquariumspecies of underwater creatures - and marine, and freshwater. That is why it could be called a zoo and Milan, which brings together representatives of a particular group of animals. One of the most interesting exhibits - a tropical coral reef, near which is always the largest number of visitors.
Made in the form of a transparent arch modernHall demonstrates the serious inhabitants of the seabed - moray eels and predatory fish. Providing this part of the aquarium, if a guest is immersed in a sea and feels part of its flora and fauna.
By the way, Sempione Park itself, which isbuilding the aquarium, great for family walks in the fresh air. The main attraction - an excellent viewing platform, from Milan can be seen in all its splendor, but on a hot day, the most popular destination are the fountains that adorn the park.
How to get there?
Aquarium Address - Via Girolamo Gardio, 21, Milan,20121 Italy. It is located in Sempione Park area and get to it the easiest on the Milan subway. The stations are called and Lanza Brera Piccolo Teatro Cairoli Castello. Tram first route is also suitable for a trip to the aquarium. Exit will have to stop Pagano Milton. For the tram route 19 stop is necessary Pagano Canova, and for routes 12 and 14 - Bramante Lega Lombarda.
Helpful information
Hours aquarium in Milan - from 09.00 to 17.30 with a lunch break from 13.00 to 14.00. The object is open six days a week, except Mondays.
Ticket price:
Full adult ticket costs 5 euros.
Price discount ticket - 3 euros. The right to have discounts Visitors with disabilities, children under 6 years of age and some other categories of citizens. To purchase a discount ticket must present photo identification.
Free entrance to Milan Aquarium is possible:
On Thursdays after 14.00.
An hour before the closing of an object in any given day.
The first Sunday of every month throughout the working day.
Services and contacts
Photographing indoor aquarium in Milan allowed everywhere, but without using the flash.
Details about the aquarium, ticket prices and available exposures can be found on his official website - www.acquariocivicomilano.eu.
Phone + 39 02 88 44 5392
Zoo Photos in Milan