Naples Metro: circuit, photos, description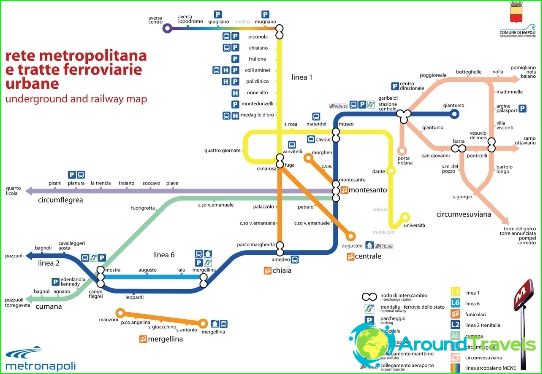 Driving Naples metro
The system of public transport lines, relatedto the category of high-speed, in the Italian city of Naples consists of metro routes and funiculars. The system also includes the suburban railways. Metropolitan Naples was opened in 1993. Today, it consists of two fully functioning line. The total length of the subway route Naples is about 35 kilometers. On the lines open for entry and exit of passengers 32 stations, which uses daily at least half a million people. In the year of the underground Naples transports over 170 million passengers.
Commuter rail tracks were laid inNaples and its surrounding areas in the early twentieth century. They almost were not related to a single network, and therefore a full and comfortable use of them was not possible. In the 50s of the last century there were the first projects to improve the railway system in Naples, and in 1976 turned the construction work. They have successfully completed only after almost two decades, and in 1993 put into operation the first metro route Naples.
Metro Line 1 of Naples has a length of 18 km of tracks and17 stations on its length. It links the northern suburbs with the center. Line 6 carries passengers in the western part of Naples, as well as the Route 1 passes under the ground. Four metro line Naples funiculars are included in a single system.
Hours of Naples metro
Naples metro lines have their own scheduleeach work. 1 branch opens for entry of passengers at 6 am and finishes the job in 23 hours. The exception is Piscinola station, which takes passengers past 22.20. Line 6 opens at 7.30 and only works five days a week. Its stations close at 14.30. there are time intervals between trains, depending on the time of day. Typically, during peak hours to wait for the train is no more than 6 minutes, the normal time - 10 minutes, and in the evening - to 15 minutes.
Photos Naples metro