Naples Metro: circuit, photos, description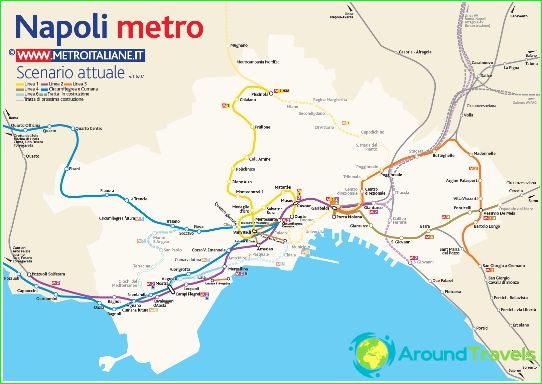 Metropolitan of the Italian city of Naples, is included in the so-called high-speed transport. Besides Naples metro, it includes suburban railways and cable cars.
Naples Metro was put into operation in 1993year. Today, the length of all three of its lines is almost 35 kilometers. On the routes open to the needs of passengers 32 stations, and on the day of Naples metro transports almost half a million passengers. During the year, the passenger traffic is at least 170 million people.
Line number 1 is marked on the Naples metro schemeblue and offers passengers use stations 14, which are mainly located underground. Top paved the way only the northern section of the "blue" branches. Route length is 18 km, and it connects the historical part of the old city with the northern region. The plans of the authorities - the extension of branch number 1 to the Naples airport and the closure of her in the ring.
number 2 metro line connects Naples with PozzuoliGianturco and stretches almost 15 kilometers. The diagrams designated crimson color and has 11 stations on its length. This branch is laid on the site of an old railway line, part of it is under the ground, and the rest of the way - on the surface.
"Blue" twig number 6 - one of the newest inNaples metro. It is put into operation in 2006. While the length of its route is not more than 2.5 kilometers, and only four stations operate on the route for the entry and exit of passengers.
Circle line number 7 - "green" branch, built in 2008, the latest. Its 12 stations make it possible to transplant to other subway routes.
Hours of Naples metro
Stations open for passengers in 6.00 in the morning and take them up to 23.00 hours. The average spacing of trains in the subway in Naples during peak hours of 5-6 minutes, the rest of the wait can be up to 10 minutes during the day and 15 minutes - in the evening.
Tickets for the underground Naples
Buy ticket for the Naples metro at the box officeand vending machines. It is the same for all kinds of public transport, except for the ferry. The price depends on the day of the week, which sold the ticket, the duration of its use. Cheaper to buy preferential subscription for 3 or 7 days, which will not only take the subway in Naples, but also get some benefits for sightseeing in the city.
Photos Naples metro