Shops and markets of Naples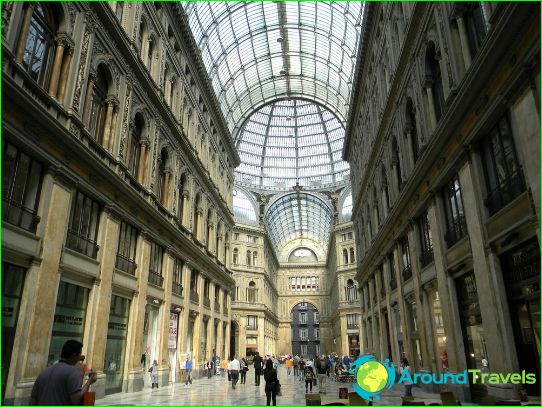 If we talk about shopping in Italy, the firstall tourists go to Milan - the fashion capital of the world. If you forget to Milan, and then in Naples is, what to buy at a very good price. Therefore, after the points of the cultural program, could usefully be given to the time of purchase.
Popular outlets
Shopping in Naples begins right fromstation square - Piazza Garibaldi. Here is full of handbags, wallets and other leather goods. Continue on Corso Umberto can be - it was full of stores the medium price segment and stores local brands.
The streets of Via Toledo and Via Dei Mille areparade, so to speak - face Neapolitan-commerce. There are also many shops on Via Chiaia, Via Roma and Via Calabritto. And at Via San Carlo is a very popular tourist destination Galleria Umberto, where luxurious surroundings located under the transparent roof darkness chic boutiques.
If you want to buy an original gift to someone you know, it is best suited Via Dei Tribunali. And on Via B.Croce should go in search of art and jewelry shops.
30 km from Naples, is a designer outletLa Reggia - one of those companies McArthurGlen. At an affordable price with the standard for this brand of discount of 30-70% of buyers here are the things promoted brands premium collections from the previous season. Outlet is equipped with great comfort, thoughtful design pleases the eye, so that the aesthetes for whom it is important not just to buy, but also where, will be satisfied. Children's playground with a teacher, cafes and restaurants, benches for rest near the flower beds - all for the convenience of customers.
A very distinctive food market La Pignasecca. Farmers brought him the freshest products. It works with about 8 am to 13 days. Italian fruits have a unique taste, it is impossible to describe, you have to try. And, for example, chitrone - a huge lemon - and you can bring as a souvenir.
Antiques Collectors are well aware of themerits Neapolitan flea markets and shops rag pickers. The most famous markets - Fiera Antiquaira Napoletana and Mostra Mercato Constantinopoli. They can buy things made in different styles - baroque, Empire, Rococo, cameos of precious or semi-precious stones, coral, lava of Vesuvius; ceramics, mosaics preserved from ancient times; copies of finds from the excavations of Pompeii. As always in such cases, you should be very careful. To purchase an item with a history should be "in the know" in order to determine the date of its manufacture and the approximate cost.
But do not forget to keep an eye on wallets and purses: pickpockets thrive in Naples, and thieves on motorcycles are on the alert!
Photos Naples stores