Holidays in Naples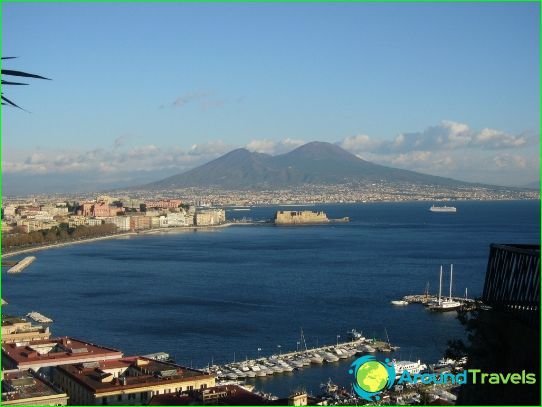 Vacations in Naples - it's delicious Neapolitan pizza, ancient monasteries and fortresses, beautiful parks and gardens, interesting exhibitions, fashion shops, bustling holidays.
The main types of holiday in Naples
Sightseeing: you will visit the National Museum and Gallery of Capodimonte, inspect the ruins of the ancient city of Pompeii, the Cathedral of St. Francis, the Royal Palace and the Castel dell'Ovo, Carthusian Monastery, the Chapel of San Severo, the church of San Lorenzo Maggiore, ascend by cable car to the fortress of St. Elmo. If desired, you can visit the Archaeological Museum and the catacombs of St. Gaudioso.
Active: Anyone can go hiking (organized hike to the volcano Vesuvius), scuba diving (you can visit the underwater fishing) and surfing, yachting, have fun in the nightclubs (to find them, you can go to areas of Piazza Sannazzaro and San Pasquale di Chiaia), visit the Aquarium Anton Dohrn Aquarium and Panda amusement park.
Beach: those who prefer to retreat, it is worth to go to the beach Lucrino (there are no crowds of tourists) - it is in the area of ​​Bagnoli, Pozzuoli, and is famous for crystal clear waters. If you really want to swim, and you do not have time to get to another place, you can swim on the beach of Posillipo, but it is worth considering that the water is not very clean. The best beach holiday destination is considered Bango Elena - here you will be able to sunbathe on loungers, a bar, located here use cabanas. It is worth paying attention to the beaches located in the surroundings of Sorrento - Sant'Angelo, Piano di Sorrento, Meta.
Event: while relaxing every traveler will have the opportunity to visit all kinds of events dedicated to the New Year holidays, at the Easter parade, a religious festival "Festa Do Pedigrotte" (September), Pizza Festival "Pizzafest" (September).
Prices for tours in Naples
The best time to travel to Naples is consideredApril-October. The most expensive things to do in Naples realized in the summer months - this time jump prices for tours, entertainment, hotel rooms. Who can save you plan trip to Naples in the low season, covering the period from November to March.
On a note!
If you decide to have a rest in the summer in Naples, booking tours it is advisable to engage in advance, as this time - the height of the tourist season.
Getting around the city is convenient to buses,trams (more profitable to buy a single ticket that allows travel on all public transport for a few days or weeks) and taxis. But in the historical part of the city it is advisable to walk - it is here that for the majority of excursion sites.
Mementos from Naples can be painted tambourines, limoncello, leather products, local wine, coffee, olive oil cake "caprese" Pulcinella (figure man - a symbol of the city).
Photos Recreation in Naples