Taxis in Naples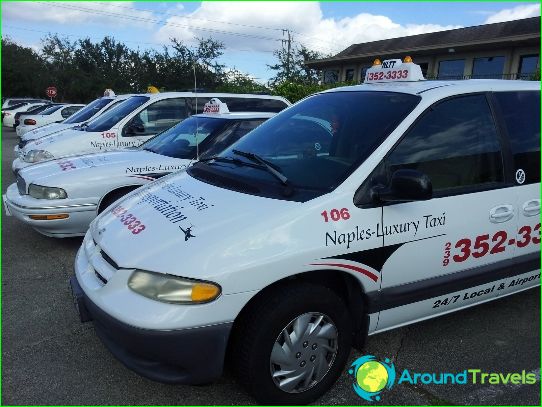 Official taxis in Naples - a white car, equipped with taximeter (on the car doors shows the city symbol - Pulcinella).
Taxi Services in Naples
Take a taxi, you can immediately after arriving inAirport (their parking lot located in front of the arrival terminal) - Local drivers are willing to take you both to the city center and to all hotels and even in one of the nearby towns. And in advance by ordering online on a shuttle from the airport to the desired destination, after placing the order you will be informed of the exact cost of the service. While vacationing in Naples, to sit in the free car can be parked fitted close to the main squares and attractions.
All who wish to request a supply of machines,can implement his plan, turned into one of the taxi companies: Consortaxi: 081 20 20 20; Taxi Napoli: 081 556 44 44; La Partenope: 081556 February 2; Cotana: 081 570 70 70.
The cost of a taxi in Naples
"How much is a taxi in Naples?" - A question asked by many guests of the Italian city. Finding your way as possible, viewing the data reflected in their current rates in the prices:
Planting costs to passengers in 3-5,5evro;
one overcome kilometers charged at the price of EUR 0.8-1;
when ordering a taxi by phone during weekends and public holidays to the value of your fare will be added to 1.6 euros;
extra charge for luggage will be € 0.50 / 1 place, and for the transportation of a pet with you to take a supplement of 2 euros.
Also, if you sit in a car designed to carry more than 5 passengers, then 4 and then the person will have to pay 1 euro.
During a trip through the city you will pay at least4.20 euros, and, for example, a trip in the direction of "Central w / station - Airport" will cost 18 euros, and in the "Town Hall Square - the National Museum of Capodimonte" - 12 euros.
Payment for the meter readings is not alwayscomfortable (drivers often carry tourists circles, winding counter in order to increase the cost of travel) - is often advantageous to use taxi services, operating on the preset tariff system (price list with the prices in the official taxi reflected in several languages ​​- Spanish, Italian, English, French), concerning to popular destinations (port, airport, railway station). In this case, voice direction in which you are going to ride, and then say "tariffa pre determinata".
In Naples, especially in the historic center of the city, many attractions are located (in the town is about 450 churches and temples), to get to where it is most convenient at the local taxis.
Photos Taxi in Naples