Rimini Beaches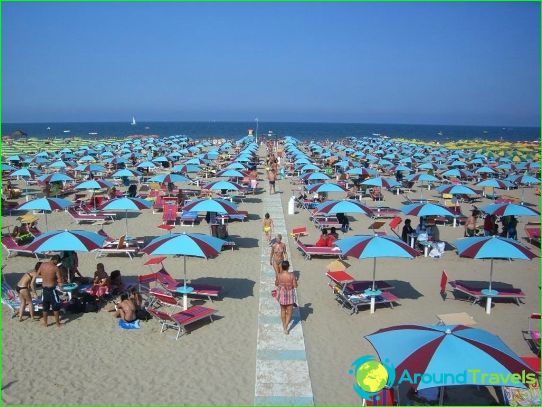 Rimini is different from most otherItalian resorts that access to each local beach is absolutely free. Here you can properly relax, sunbathe and swim, not while spending a single extra euro. Any beach is open to the public, no matter what territory it belongs: boarding house, hotel or a small cafe. Rimini Beaches are constantly open to travelers, but if you want to spend a whole day here, will have to rent a beach chair or lounger, but it is - only in terms of your own convenience.
Local prices vary: there are beaches as the budget format, and costly, for those who can afford a really luxurious holiday. Each Rimini beaches vacationers can find free playgrounds for football, basketball and tennis.
Features Rimini beaches
Many local beaches are regularly heldsporting events in various sports. The best sandy beaches of Rimini are designed for different travelers, but some of them just perfectly suited for youth recreation. During the day you can enjoy the beauty of a standard set of a beach holiday, and at night there are organized local discos. At the disco, you can enjoy an aperitif, dance and meet with the same cheerful young people.
Some of the beaches of Rimini is very peaceful and quiet. This is where it is best to rest with small children, because people do not have much, and on the nearby beach strewn playground.
One very nice and completely freeservice is present on every beach in Rimini Coast Guard. Low tower hide professionals who keep order on the beach and in the water, and in case of danger, immediately rush to the rescue.
Rimini on the areas for recreation
Local coast can be divided into three zones:
from Gabicce to Rimini;
from San Mauro to Milano Marittima;
the so-called Lidi Ravennati.
The first zone is considered one of the most advancedamong resorts in Italy. Coast cleaned and checked regularly, rescuers vigilantly monitor the safety of tourists. Relax here will be able to both adults and children that are scattered throughout the small cafés and bars, mini-club, playground, and also provided some other activities for children. At night there are often satisfied with fireworks.
The second area is still evolving in terms of receptiontourists, but there has been a surprising combination of demonstrations and cultural values ​​of Italian beach holiday. There are many options for leisure activities.
The third area is famous for a small amounthotels and as close to the exceptionally natural, natural state. Local beaches can not be called the wild, but they can claim to be the quietest.
Photos beaches of Rimini