How to fly from Rimini to Moscow?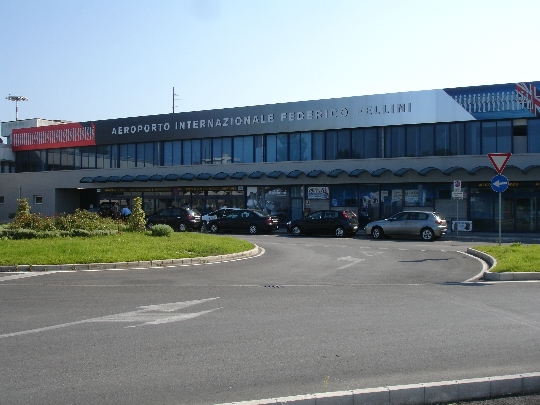 In Rimini, you could see the statue of Pope Paul V,Arc de Triomphe August, Palazzo del Arengo and Sizmondo castle, have fun at the water park attractions "Aquafun" and amusement parks "Mirabilandia" and "Fiabilandia", relax on the beach La Marina, a walk across the bridge of Tiberius, to visit the halls Gambalunga library tours? And now you need to find information about the flight back to Moscow?
How to fly from Rimini to Moscow on a direct flight?
The capital of the Adriatic Riviera and Moscow shares2,200 km, so to return home, you will need more than 3 hours. On board the aircraft, "Transaero" you will spend 3 hours 35 minutes (landing in "Domodedovo"), and "Vim Avia" - 3,5 hours.
If you are interested in the price of airline tickets Rimini-Moscow, in the spring months you can buy them for 8,600 rubles, and in September-October, their costs 9400-12300 rubles.
Rimini Flight to Moscow with transfers
Are you interested in flights with transfers? Most likely, you'll fly through Rome, London, Vienna, Berlin and other cities. If the airline you choose "Ural Airlines", then on the way through Krasnodar, your way to the house takes 31 hours (pending connections will have to spend 25 hours), and in Bergamo - 28 hours (waiting for the second flight - 20 hours). If, however, as the main carrier will perform "Air Berlin", you will be offered to fly with transfer in Berlin (path takes - 24 hours, and the expectation is 18 hours) and Düsseldorf (in the way you spend 30 hours, including waiting dock - almost 24 hours ).
Selection of the airline
From Rimini to Moscow flying aircraft (Airbus A 320, Boeing 757-200), held by the following carriers: "Transaero"; "Alitalia"; "Air Berlin"; "VimAvia".
For service flights Rimini-Moscow respondsFederico Fellini Airport (RMI), located 8 km from Rimini (here you can take a taxi "Taxi Rimini", the bus number 9). At this airport you do not get bored, because it is equipped with ATMs, currency exchange offices, bank offices and shops, including duty-free shopping, waiting rooms, including VIP-hall (there is air conditioning, Wi-Fi, satellite TV, bar, cushioned furniture). In addition, interested persons can visit the hot tub, satisfy your hunger in "Airport Caf" and enjoy delicious desserts at the ice-cream "Baskin & Robbins".
What to do in an airplane?
In flight, you can flip through a fashion magazine and thinkthat someone from relatives and friends give gifts, bought in Rimini, as Parma ham, Italian wines, olive oil, limoncello, crystal products, clothing and accessories, elegant clothes, jewelry, home textiles, leather goods, perfumes .
Photo