Prices in Rimini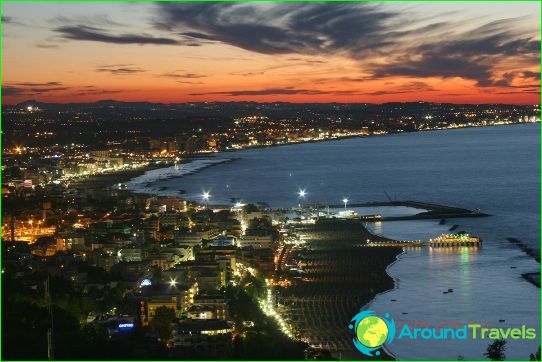 Rimini comes a lot of tourists from Russia. They are attracted by excellent beaches, favorable climatic conditions and resort entertainment. Reasonable prices in Rimini provide a fascinating shopping. These tend to people who need the average cost brands.
Rimini has shops, outlet, wholesalestores and shoe factories. Many Russians, owners of boutiques, buy things in this town and its surroundings. Therefore, half of the vendors at the resort's shops understand the Russian language. However, the main advantage of Rimini - a magnificent coastal area. Shopping here can be combined with a beach holiday and boat trips. Rimini stores are good discounts. For example, in the sales period you can buy branded shirts for 12 euros apiece.
How much is the power
The food in the resort restaurants are expensive. The cheapest dish is pizza. If you want to save money, buy food in a supermarket. Prices are low: potatoes - 3 euro per 1 kg of peaches - 2 euros, grapes - 6 euros. Watermelons in the shop are sold in sliced ​​form: 1 euro per 1 slice. The inexpensive restaurant average bill is 15 euros. For this money, you can enjoy pizza and a glass of wine. The cheapest costs on food / Railway station: for a croissant with a cup of coffee will take 2 euros.
Prices for services in Rimini
On the beach you can rent a lounger for 6 euros per day. The same amount will cost an umbrella. Toilet and shower on the beach area can be used free of charge. Complimentary give sunbeds, bicycles are allowed to use the pool.
Accommodation of tourists
Rimini sandy beach area is designated as the Romagna Riviera. It includes 10 resort areas, where there are hotels of different star. Rimini of 2 hotels 5 *.
Excursions
Resting in Rimini, tourists can make toursthe nearby cities. Tour operators offer trips to Venice, Rome, Florence. Mass entertainment is in the park "Italy in miniature". In the town of Cattolica is located next door, there is an aquarium. From Rimini vacationers make self guided tours, which are cheaper. For starters, you can explore the central part of the resort, which are focused attractions. A trip for two to Venice costs about 40 euros (round trip). Excursions to San Marino cost 15-25 euros per person.
transportation services
Rimini Public transport is represented bytrolleybus and bus services. The transport network is developed excellently. Stops are located every 350 meters. The newspaper and tobacco kiosks sell tickets. One ticket for 1 hour costs 0.8 euros. The ticket price for a day is equal to 2.84 euros. Using the bus, you can get to anywhere in the resort.
Photo