Season in Rimini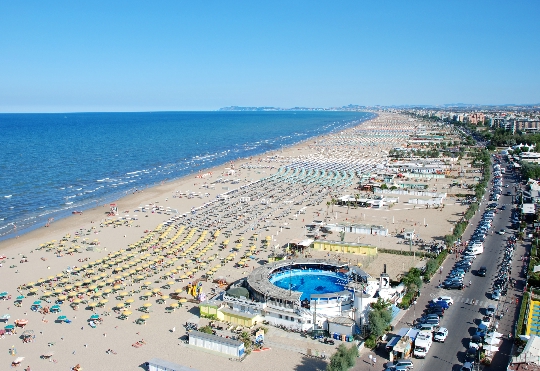 Rimini Star success in the travelsky is explained very simply: gorgeous beaches, comfortable hotels, a long swimming season and the proximity of the main attractions of the Italian. About delights of the Adriatic telling pointless, it is the sea to see and feel, moreover, that any season in Rimini allows you to relax in its class.
Beach holidays
The main reason for buying tours in Rimini - it is hisgorgeous beaches. More than fifteen kilometers strip of pure sand and deep blue Adriatic Sea make the resort one of the most popular in Europe. By the way, the relative affordability of city hotels and restaurants - one more reason to spend a holiday or vacation here.
Subtropics, where the city is located,guarantee the perfect start to the summer season in Rimini in late May. The air is heated to a stable 27 degrees, and the water - up to + 23 Precipitation at this time are rare and short-lived, low humidity makes it comfortable to relax even for older travelers. By July-August maximum temperature values ​​for the coast and the water reaches respectively 29 and 25 degrees, but the pleasant breezes allow not particularly notice the heat. At this time, do not neglect the sunscreen, and walk around the city should be transferred to the morning or evening hours.
Best season for shopping
During the visit on holiday in Rimini mostRussian tourists planning to do some shopping and update your wardrobe. Such a desire is understandable - the capital of world fashion, Italy offers a variety of shops, outlets and shopping centers, where actually buy branded things unreal good price. Best season for shopping in Rimini comes during the Christmas sales during the change of summer collections for winter and vice versa. Weather in the New Year's holiday in the Italian resort quite unpredictable. Old-timers remember, even snow and frost, but mainly the temperature hovering around 10 degrees mark. Strong winds in the winter can bring discomfort, but because of these trips is to cook a thick jacket and a warm scarf.
Winter - a great season and relax in the spa hotelsRimini, where a wellness center on the basis of the local thermal water. In addition, tours of the city and its surroundings and a trip to Rome or Venice will bring more pleasant experience this time of year: the number of tourists on the streets of the most famous cities is much less than in summer, and the weather allows for long walks and enjoy the magnificent views.
Photo