Independent travel in Rimini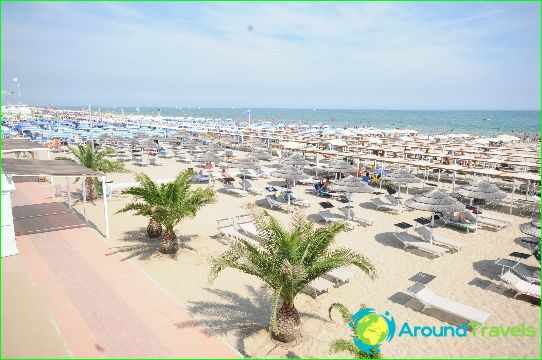 The famous Italian resort on the AdriaticSea - one of the most popular holiday destinations in Europe. Russian tourists are no less fond of Rimini, and the reason is not only gorgeous beaches with a rich infrastructure and historical sites, but also the opportunity to go on excursions to nearby cities, looking for the way to the excellent shopping centers.
When to go to Rimini?
Most beach time starts at Rimini in May. The air is heated to a pleasant 25, and the water - up to 18 degrees. Sunbathing and swimming is possible until October, when the days are getting a little cool, but in the absence of wind are quite suitable for leisurely "velvet" rest.
How to get to Rimini?
At the local airport, named after the famousnative of Rimini Federico Fellini, a lot of lands as a charter and scheduled flights from the cities of Russia and the European Union. In the city the passengers get on the train or on the bus. Regular flights - once in half an hour. Railway station in the city is the point of departure of trains throughout Italy. This can be used for the organization of excursions in the country. To get around the city should buy the ticket book or a subscription that will make use of public transport more competitive.
housing
Hotels in Rimini, in the high season should reservebeforehand. It can be guaranteed to choose a hotel with a reasonable price for the room and good location. The main difference between the local hotel - comfort and high level of service even with a small "star".
Argue about taste
Major Rimini attractions in the culinarysense - a true cheese and Parma ham. These products are made in this region, but because of their real taste and aroma of gourmet haunts all caught in Rimini restaurant. And in the region of Emilia-Romagna, to which Rimini, preparing the famous spaghetti bolognese and bologna. A great chance to eat cheap - go to a restaurant with complex lunches.
Cognitive and exciting
Besides ancient architecturalattractions, to which undoubtedly belongs Arc de Triomphe in honor of Augustus, built in 30 years BC, in Rimini, there are many places connected with Federico Fellini. The famous native of the Italian spa town - the main tourist brand Rimini.
Photos trip to Rimini