Tours in Rimini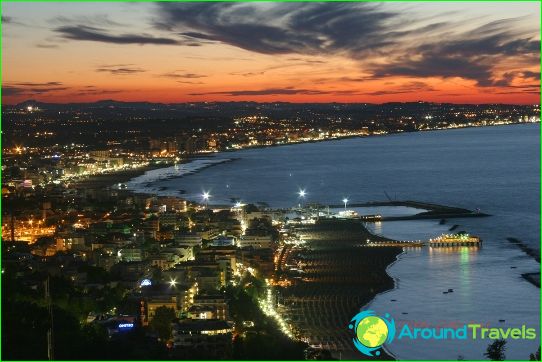 Rimini has everything for a good rest -warm sea, golden beaches, a couple of times ancient ruins of the Emperor Tiberius, and dozens of shops, where everyone is able to make the purchase of their dream. These simple joys allow tours in Rimini using such demand and popular among Russian tourists.
History and traces
The Etruscans, Umbria, Gauls and Samnites inhabited togetherin turn these lands, while in the III century BC they came here by the ancient Romans to establish a military colony. Her task was to prevent the invasion of the Gauls and slowly win the Po Valley. Since then, Rimini, called Ariminum then, has become an important item on the crossroads of ancient Roman history.
Witnesses of those years still remain TriompheEmperor Augustus, erected in honor of the completion of the road from Rome to the Adriatic coast, and Tiberius Bridge, perfectly connecting the shore of the river Marecchia and in our days.
Briefly about the importance
Choosing tours in Rimini, you can buy tickets forplane or arrive in the city on a cruise ship. Rimini International Airport is named after the famous native of Federico Fellini, and the local port - one of the largest on the Adriatic.
To get to the center of the aircraft easier terminal only high-speed train, which runs every half an hour.
Local celebrity - St. Augustine's churchstoring relics of Blessed Albert Marvelli, and the Church of San Nicolò, where in the XII century, is part of the relics of St. Nicholas. These shrines allow you to make and pilgrimage tours in Rimini.
The climate in the resort of the Mediterranean, tropical. The maximum temperature is set in July and August with an average of 28 degrees. The water warms up during the peak season to 26, making the bathing enjoyable and comfortable.
Winter in Rimini is pretty cool, and columnsthermometers show no more than 15, but this time of year is perfect for sightseeing tours in Rimini. In the city in winter and autumn significantly reduced prices in hotels, but because here direct those who are interested in trips to the nearby cities of Italy. This program allows you to bypass a lot of interesting places, without shelling out a lot of money for accommodation in hotels in Rome, Venice or Florence.
Rimini is situated in the historical region of Italy,traditionally made cheese and Parma ham. These products you can not only try, but also profitable to buy as gifts to friends, gourmets remaining in Russia.
Photo