Attractions in Rome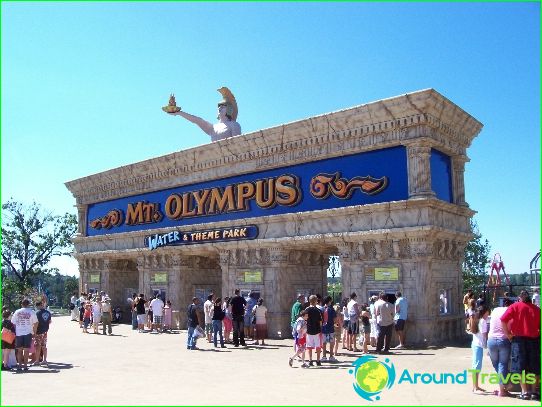 Rome - The Eternal City. The concentration of attractions per square kilometer here, perhaps, is the highest in Europe. Therefore it is very often the tourists who decide to inspect all "in a hurry", returning home completely disappointed, because their appetite research and has not been satisfied. However, the outstanding monuments of architecture - is not the only treasure of the city. Individual attention and attractions in Rome, which will appreciate everyone who likes to have fun and carefree spend time.
Rainbow Magic Land amusement park
Located in the suburbs of Rome (about 60 km). This place can be called a real children's kingdom, as most of the entertainment is designed for young children and teenagers. However, the older audience will not be disappointed, as there are quite extreme in the list of attractions of the park.
Total can be found here: about fifty rides; roller coaster; pad for racing minicar; funicular. In addition, almost every day are held here and acrobatic stunt show, so it will always be fun. Interestingly, the roller coaster here has a little unusual format, namely the Russian general.
An adult ticket costs 35 euros for children - 28. The park has its own online https://www.magicland.it/ page where you can find detailed information on the work schedule, and book your tickets.
Lift time
This well-known in Rome is funultra-5D cinema, which immerses the viewer in the distant past, in the days of the Roman Empire. The story begins with the story of the founding of Rome by Romulus and Remus, and to the decline of a great power. As noted, those who have already had to go there, special effects differ so high quality that the illusion of presence is almost indistinguishable from reality.
Powered Lift time daily from 10.30 to 19.30 ticket price averages from 12-18 EUR per adult and EUR 9-15 for children up to 11 years. For our tourist is of interest because there are movie sessions with Russian dubbing. Detailed graphics better clarify on http://www.timeelevator.it/ site.
Waterpark Gidromaniya
One of the best water parks in Rome. Gorki dizzying heights, huge waves, tsunamis, spa pool, water attractions, fitness classes and water aerobics - there is literally everything that your heart desires. Also located on site work places cafes and restaurants where you can refresh yourself after a tedious entertainment.
The entrance ticket costs 16 euros, and detailed information about the water park and the work schedule can be found on the site www.hydromania.it.
Photos attractions in Rome