Metro Rome: map, photos, description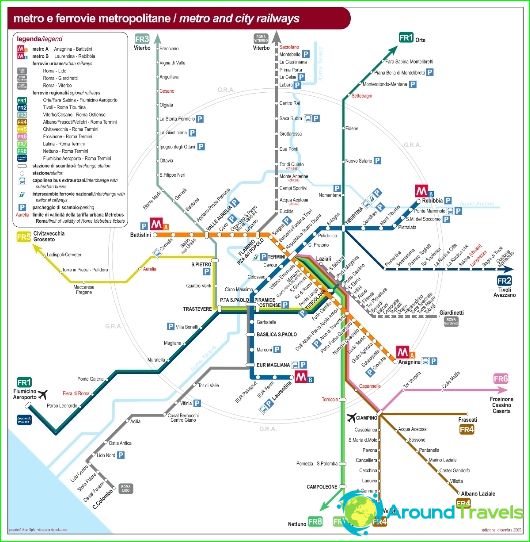 Metro map of Rome
Its metro Romans called "Metropolitana". Metro Rome was opened in 1955. It is the oldest subway in Italy with a total line length of 40.4 km and 52 stations, 46 of which are underground. Currently, the system of the Roman subway consists of two operating subway lines: Line A (orange) and line B (blue) that intersect at Termini Station, the main train station in Rome. Line B is branched into Bologna station. C (green) line is under construction - consistent parts of this line will be administered according to the plans of the underground until 2020:
2014 - section between the stations of Lodi - Monte Compatri-Pantano,
2015 - section between the stations of San Giovanni - Lodi,
2020 - section between the stations of San Giovanni - Fori Imperiali / Colosseo.
Movement of trains on Line C will be fullyautomatic, it plans to use the AnsaldoBreda trains, which are used in the Copenhagen Metro. In the long term - Construction of Fourth Line D (yellow), on which work is temporarily suspended the project.

The history of Rome Metro
The first plans to build a subway in Rome werein the thirties, with the aim to connect Termini station and the new district Ε42, which was to be held Trade Fair 1942. However, all plans collapsed because Italy entered the war in 1940. By this time, several tunnels were built, in which during the bombing and shelling voynyot hiding inhabitants of Rome.
Work on the creation of the first city in Italyrailway resumed in 1948. February 9, 1955 in Termini official opening of the new railway. The next day, the train took its first passengers.
However, the real subway in Rome was notup until 1959. This prevented not only the bureaucracy, lack of funding, but also the fact that Rome as the ancient city has several cultural layers, and any serious work in depth in the center of the protests of archaeologists met that required closer scrutiny construction zone.
still work began in 1964 with the areaTuscolana, but were complicated due to poor organization. Because of recurring accidents in his career, at the time they had to stop and resume after five years, is already using the latest technology.
Thanks to the archaeologists at the Repubblica station attention of passengers presented the remains of the Roman city wall, and on the Termini station - the ancient mosaics.

Hours and tickets Rome subway
Rome Metro operates from 5.30 to 23.30 every day, trains run about every 7-10 minutes. Tickets are available at newspaper and tobacco shops, as well as ticket vending machines. Roman metro is integrated into the overall transport system - tickets are valid for all modes of transport. To travel on the subway you must use the ticket at the entrance to the turnstiles and output. Most Romans do not buy tickets, and use subscriptions. On the routes in the subway work supervisors.
Photos of Rome Metro