Viewpoints Rome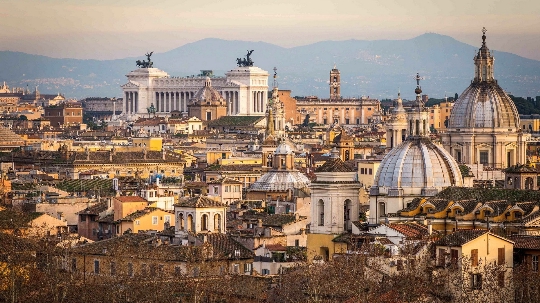 You are one of those groups of tourists, who when visiting different cities prefer to climb higher? Those who like the unique panoramas - viewing platforms of Rome.
Capitol hill
Climbing up the hill (46 m above sea level)completely free of charge (a fee is charged only for visits to museums and temples that there are) one of the three staircases, one can see the statue of Marcus Aurelius and the Basilica of Santa Maria in Aracoeli, as well as from the lookout to admire the views opening onto the Roman Forum.
Address: Piazza del Campidoglio.
Lookout Castel Sant'Angelo
The rise of the platform for the review will be rewardedopening away views of the Tiber with graceful bridges (considering the local beauty, you can see the area with narrow medieval streets - Trastevere).
Address: Lungotevere Castello, 50; ticket costs 10.5 euros (the price includes a visit to the museum, the museum is closed on Mondays).
Lookout Spanish Steps
Admire the panoramic view of Rometravelers will be able to by finding a small observation deck on the top of the stairs, near the church of Trinita dei Monti (worth a look and on the very top ladder - you'll see that its stages have different widths). During warmer months, at the foot of the stairs there are jugglers, musicians and magicians - they entertain tourists colorful action.
Address: Scalinita di Trinita dei Monti
St. Peter's Dome Cathedral
This cathedral, towering at 136 meters,It is located one of the best lookouts, which will be able to admire the Vatican, Rome, St. Peter's Square and surrounding streets. Pricing information: hiking ascent is 5 euros; elevator services are paid for at the price of EUR 7 (to overcome the elevator you will not be all the way - you have to walk about 300 degrees along the narrow spiral staircase).
How to get there? Will be able to get to the Cathedral tram number 19 or bus number 49 or 590 (address: Piazza San Pietro).
Vittoriano
The central part of the composition takes the statueVictor Emmanuel II, and at the top of the monument, you can find a terrace-area and can be reached by a panoramic lift, paying 7 euros (available to visit until 17:30, but in the winter months - until 16:30) - hence be able to see the Colosseum , Roman forum, and almost the entire city.
Address: Piazza Venezia.
Panorama platform on the Pincio hill
To get the opportunity to see almost all of Rome from the height you need to climb up the hill from the Piazza del Popolo square. Immediately on the hill will be able to sit on the bench, rested in the shade of trees.
Hotel "Forum Roma"
This should come to visit an Italian restaurant located on the terrace - here you have a chance to admire the Pantheon, the Colosseum, the Roman church domes.
Address: Via Tor dei Conti 25-30.
Photo