Prices in Rome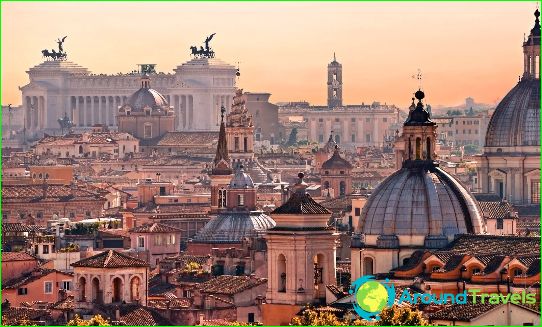 The most visited city in Italy is considered to be Rome. Therefore, the cost of services and goods there is overstated. Consider what the prices are fixed at Rome this year.
Accommodation
Rome hotels offer a more expensive room thanhotels in other European cities. This applies especially to institutions that are located in the heart of the city. On the outskirts you can find budget accommodation. Hotels near Termini Station, also offering low-cost accommodation. It features the city has numerous hotels, among which we can find a restaurant to taste.
Booking rooms in hotels of different possibleclass. The cost of living depends on the star, location, number of storeys, the season and additional services. Average price per room per night is 2200 rubles. In Rome, functioning mini-hotel offering comfortable and small rooms. any tourist can live in the apartment if you wish.
Excursions in Rome
Museum tickets are inexpensive. Visit the main attractions of the city can be without prejudice to the purse. Many historical and cultural monuments is allowed to inspect for free. Tourists usually book sightseeing tours around Rome. Individual Guide services cost 45-50 euros per hour. Group tours of the outskirts of the city costing at least 40 euros.
Restaurants and cafes in Rome
In the capital of Italy's many chic restaurants. The best places designed for people with average income, usually crowded. Cheap meals are served in the cafe, which are removed from the city center. In Rome, work hosteia and trattoria, representing analogues of Russian restaurants. They offer a wide range of inexpensive and tasty dishes. Dine in the trattoria can be cheaper than in a restaurant. After paying 15 euros, you can taste some Italian dishes. Restaurant with home cooking is also considered to be economical. Lunch there is no more than 9 euros.
The most budget option - buying a pizza takeaway. The cost of this dish is about 2-4 euros. Italians usually eat breakfast croissants, drinking their coffee. In Rome, it is recommended to try artichokes, zucchini tempura, soup oxtail pasta with pecorino cheese, bovine eggs and many other unusual dishes.
Getting around Rome
transport system in the city is developed excellently. Prices in Rome on public transport services are available. Tourists often use trams and buses. A ticket for one fare is valid for 75 minutes and costs 1 euro. In the Italian capital, operating the subway, which consists of two lines. For tourists in the city ply special buses with panoramic windows that make stops throughout the city. Ticket price for a tourist bus is 15-25 euros.
Photo