Rome in 1 day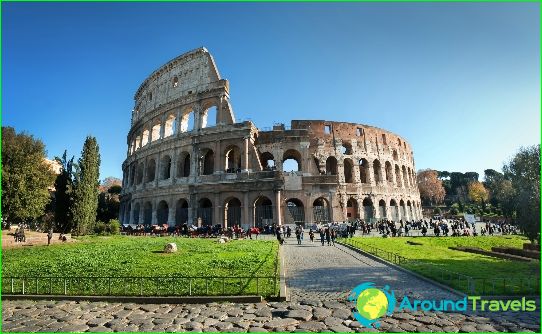 The ability to be in the Eternal City onlyone day may seem a wicked irony. The Italian capital is so beautiful and amazing that a year is not enough for a detailed acquaintance with it. And do you know Rome for 1 day, you can, if fully surrender his rhythm and atmosphere and try to visit at least the most important and famous architectural masterpieces.
Colosseum from the word "colossal"
The largest amphitheater could seat in the ancient worldonce at least 50 thousand spectators. Eighty its inputs led to the stands, where the Roman nobility and the common people were watching the fighting taking place in the arena of gladiators. Colosseum roof was tension and was an awning for protection from the weather, or the scorching sun, and the amphitheater walls were built of travertine marble, mined in Tivoli. The Colosseum was built for eight years in the 70's AD Today this magnificent building - one of the few remaining in the world since ancient times.
Fountain of the Four Rivers
One of the most beautiful Roman fountainsLocated on the Piazza Navona. It symbolizes the four major rivers of the world - the Ganges, Danube, La Plata and the Nile. White marble sculptures that adorn the fountain were built in the middle of XVII century by the great Bernini, and is crowned by his immortal work shestnadtsatimetrovy Egyptian obelisk made of stone Aswan. The fountain is fed from the territory of the ancient Roman aqueduct, and she Piazza Navona was during the reign of Gaius Julius Caesar stadium for athletes competitions.
To return to Rome
Place in the Eternal City, which aims to visitevery tourist - the famous Trevi Fountain. There is a sign, according to which anyone who threw a coin into his cup, will certainly return to Rome. The Trevi Fountain is the largest in the capital of Italy. Its height is about 26 meters, and width - about 20 meters. The fountain was built in the first half of the XVIII century and it is adjacent to the front of the Palace Poli, becoming a part of it and looking at it more majestic.
Baroque style, which made the Trevi Fountain,It makes this sculptural masterpiece especially lush and grandiose. At the fountain and make a wish was dating, and those who had a chance to see Rome for 1 day, dreaming here to re-visit. By the way, public service is taken from the bowl of the fountain up to 700 thousand euros per year. Such a high price is ready to pay for the opportunity to travel the army ever return to the Eternal City.
Photo