Rome in 2 days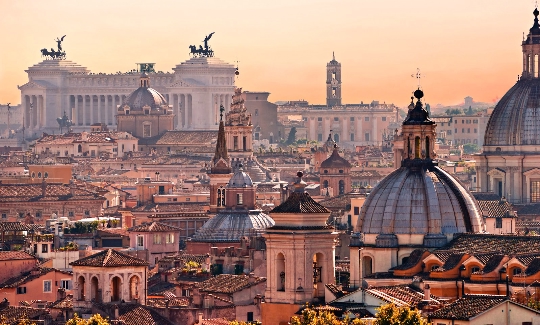 The first capital of modern Italy have called the Eternala city in the I century BC, and since then Rome has lost none of its importance. Millions of tourists, like a powerful river rush on its streets and squares, to touch the eternal and beautiful. Even being in Rome for 2 days, one can enjoy its unique charm and to have time to see the main sights.
The city on seven hills
Places worth visiting in the capital of Italy,I would have to enumerate a long time, but because each tourist chooses his own path and their own routes. The tour guides and travel guides adhere to lists that will certainly appear:
Roman Forum, which is an oldarea with buildings and structures located on it. Many of them were only stones, but still in the historically important place of the Eternal City can be distinguished temples and government offices, houses and arches.
Colosseum - the biggest Roman amphitheater built for gladiator fights in the first century AD.
Castel Sant'Angelo, which served as a mausoleum for Hadrian.
Trevi Fountain - a magnificent example of the Baroque style, which appeared in Rome in the first half of the XVIII century.
Spanish Steps, on which you can go down to the church of Trinita dei Monti to the fountain "boat" on the Plaza of Spain. The author of one of the most beautiful Roman fountains by Bernini was the elder.
Pantheon and other gods
One of the most famous buildings of the capitalItaly is considered the Pantheon. Once in Rome for 2 days to visit this architectural monument of the II century and the burial place of many great men, including - Raphael and King Victor Emmanuel II, united Italy.
Another creation is the greatest architects andsculptors - St. Peter's Basilica in the Vatican area, in the design of which was attended by Michelangelo, Rossellini, Raphael and many more worthy creators.
The home for the entire Catholic world arealocated as Egyptian obelisk and fountains by Bernini. If you have free time pleasant walk in the Vatican, and to arrange a photo session with the Swiss Guards guarding the Pope.
Fans of Renaissance art,He is in Rome for 2 days, and try to visit the Sistine Chapel, where the main attraction - painted ceiling frescoes. The work on the masterpieces of the Sistine Chapel by Michelangelo great participated.
Photo