Rome 3 days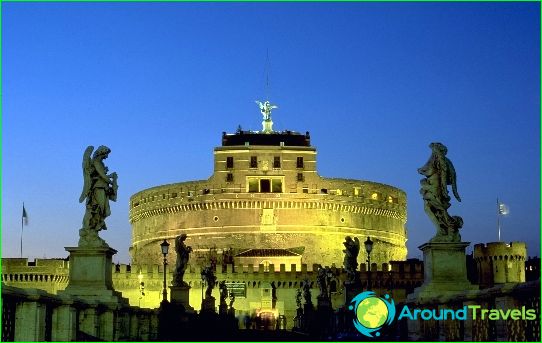 Eternal City Italian capital began to callin ancient times. And Rome - a city on seven hills, and it is pleasant to all, without exception, because such a large number of monuments and attractions on a fairly compact area, there is probably nowhere else in the world. Once in Rome for 3 days, there is a chance to make sure that there is every stone breathes history in the literal sense of the word.
From the Forum to the Trevi
The route under the "Rome in 3 days" can turn out very colorful, if in advance to plan the inspection of the city's most important attractions:
Forum Romanum - the center of ancient Rome, which ragedpolitical and religious passions, going to the people and administers human destiny. From its former grandeur is now only ruins remain, but even in the ruins of old buildings to guess the enormity and structures.
Colosseum - the ancient amphitheater dating back nearly two millennia. He served as an arena for gladiator fights and other bloody amusements.
Piazza Navona, the main decoration of whichcalled the Fountain of Four Rivers. Great content and artistic execution of the work of Giovanni Bernini belongs to the middle of XVII century, and at the heart of the fountain - ancient Egyptian obelisk. The uniqueness of the fountain in the fact that it is powered from an ancient aqueduct, as well as many centuries ago.
Castel Sant'Angelo, which served as the first timeafter the construction of the mausoleum of Hadrian. Rebuilt in the Middle Ages the castle, today it is considered one of the most beautiful and monumental buildings of the Italian capital.
blessed Pope
Once in Rome for 3 days, it is necessary to go ona tour of the Vatican. One of the smallest states in the world is very important and plays a role in the life mattered, millions of Catholics. Here is the residence of the Pope, and is the main Catholic cathedral. If we can be in St. Peter's Square on Sunday, there is a chance to get the blessing of the Pope. By long tradition, the Pope comes out in the afternoon on the balcony of his library, facing the square, and blesses all those present on it.
The monument on the hill Pincio
The "Rome for 3 days" may well includemyself and getting to know the Villa Borghese. Rome Park, designed in the English style, is located on the hill of the Pincio and famous for its antique statues and museums. The Galleria Borghese contains unique works of art, and the museum houses exhibits Julia stored collections of Etruscan art, which is considered one of the most complete in the world.
Photo