Rome in 4 days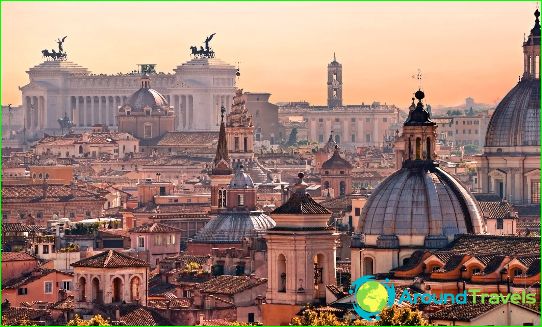 The Italian capital is not in vain called the Eternalcity. In Rome, you can come again and again and do not know even a small part of its rich cultural heritage. In a city where every stone is a historical masterpiece, and every house remembers the whole era, you can wander for days without tiring and without noticing the passage of time. Rome for 4 days - it's fountains and churches, museums and monuments, each of which is worthy of a book.
Vatican Chronicle
A day in the capital of Italy can bedevote a walk on one of the smallest countries in the world. However, the area occupied by the Vatican, is inversely proportional to its value for a great part of humanity. In a small country located in the city center of Catholicism and is the residence of the head of the Roman Catholic Pope.
The main cathedral for the faithful - St.Peter. Its dimensions - grandiose and impressive interior decoration luxury and panache. The cathedral is the tomb of the apostle Peter, and the dome of the magnificent buildings designed Mikelanzhdelo.
No less impressive in Rome for 4 days and producemuseum of a small state in the heart of Rome. Buy a ticket to visit their best through the Internet, in order to avoid long queues and multimeter. Most memorable is usually seen after a visit to the Sistine Chapel, ceilings and walls are painted with frescoes of biblical scenes.
Ruins at all times
In the center of Rome, the ruins of the Roman Forum,who once served as the center of a vast empire. There was very lively, important issues were resolved, and today only the stone remained of the once luxurious area. And yet, even in ruins, you can easily guess the grandeur and magnificence.
No less beautiful and very huge amphitheater,inherited from ancient Rome. It is called the Colosseum from the word "huge" and even after so many centuries the size and monumental buildings are dazzling.
Fountain and coin
Once in Rome for 4 days, you can make adesire to return to the Eternal City. Its execution is guaranteed, if you throw a coin into the famous Trevi Fountain. The hero of the movie, one of the business cards of the Italian capital, the Trevi Fountain impressive turquoise waters, magnificent sculptural composition and scale. Even the crowds do not interfere with enjoying the magnificent structure, but to be alone with a beautiful sight, it is worth to get up early and arrange a tour directly on morning dawn.
Photo