Shops and markets in Rome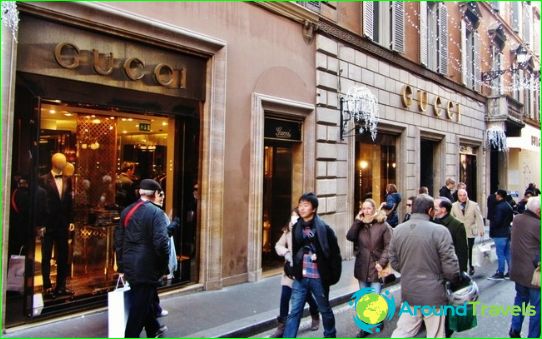 Rome - is not only a cultural center of Europe, but alsothe World Trade Center. Ever since the times of the Roman Empire in Rome gathered the best artisans and craftsmen were brought here a variety of goods and cultural values. The Italians have always been great artists and designers, and because of this, products made in Italy, are of high quality and beauty.
Shops and markets in Rome are designed for customers withdifferent incomes. If you are interested in the latest models of shoes, clothing, fur and accessories from Armani, Gucci, Valentine, Dolce & Gabbana and others., These boutiques are concentrated in the area of ​​the Plaza of Spain in the streets Santina, Frattina, Gregoriana, Condotti, Borgognona. Discount in these boutiques almost never happens. In the city center there are several outlets, for example, Techer, which sells clothing from famous designers with discounts of 50-60%.
Tourists on a budgetalso can buy excellent clothes, shoes, underwear, perfume, cosmetics, accessories and jewelry in the shops on Via del Corso Rome's main shopping street, and the street Via Nazionale, which stretches from Termini station to Piazza Venezia. At the central market Mercato delle Pulci (Flea Market), which is situated in the area of ​​Porta Portese and Sublitsio bridge otovaritsya can be even cheaper. But the market is open only on Sundays from early morning until 13 hours.
Gifts for friends and relatives to buy bestin outlet shopping. This huge shopping centers, usually located outside the city. Return buses. Tickets can be purchased on the spot back and forth and cost approximately 12 euros. The outlet shopping, you can buy quality products of Italian designers with discounts of 30-70%. These are clothes, shoes, leather goods, glassware, sporting goods. Things fashion last season, are selling at great discount prices. Outlets are very popular among tourists.
If you are traveling during periods of sales - summerfrom 10 July to 31 August, in winter from January 13 to February 15, then you have a chance to save on gifts from 20 to 70% of the original value of the goods, but as a rule, in these times of queues in the outlet shopping.
It should be noted that tourists from the countries - not members of the EU have the right to exit from Italy to receive a VAT refund 14.5% of the purchase price.
Photographs of shops, boutiques, markets Rome