The symbol of Rome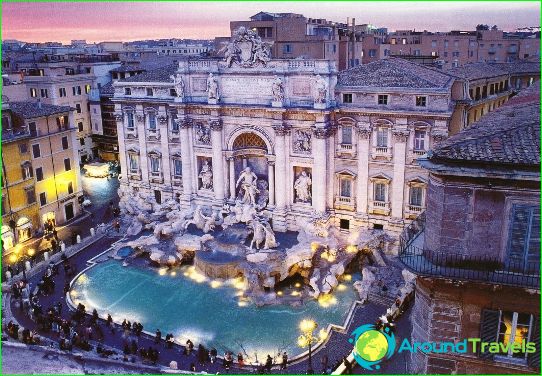 The capital of Italy is ready to offer its guestsmany opportunities for a full vacation, which is only a sightseeing tour of Rome that will allow to get acquainted with its magnificent architecture.
Coliseum
A lot of interesting things you can learn from the guides (havearchaeological and historical education), joining the tour - they are organized every 30 minutes (languages ​​- major European, cost - 4.5 euros). It is worth noting that the tourists will be able to attend a variety of shows and concerts (the Coliseum is used as a decoration - it is an ellipse with the scene in the center).
Address: Piazza del Colosseo, 1 (can be reached by bus number 85, 87, 75, 60, 175); Website: www.the-colosseum.net
Pantheon
In ancient times there worshiped Neptune,Venus and other Roman gods, and sacrificed animals during ceremonies. Today, the Pantheon - "store" the remains of the Italian kings. It is worth noting that the attraction - not just a place where you can arrange a wedding photo session: for those who then held wedding ceremonies.
Useful information: Address: Piazza della Rotonda, website: www.pantheonroma.com
Piazza Navona
Despite the fact that before oval areawas the site of the market position, here today are traded only during the Christmas holidays. Tourists flock here to admire the Fountain of four rivers (decorated with sculptures of such major rivers as the Danube, the Ganges, Yes Plata, the Nile), the church of St. Agnes (a "repository" of the head of Agnes and the ashes of Pope Innocent X), and other objects, and also attend the performances of street musicians.
Trevi Fountain
At the fountain, you can take a picture on the background of the figuresNeptune, seated on a chariot-shell (it is recommended to realize our plans in the evening, when the water is illuminated lights). And by tradition, into the water, you can toss a coin, becoming at the same time back to the fountain.
Address: Piazza di Trevi
Hills of Rome
The symbols are Rome and its hills, among which are the following:
Capitol Hill: climb the hill at any of the 3 ladders can visit churches and museums, as well as admire the sights from a height, standing on the observation platform. Address: Piazza del Campidoglio.
Palatine Hill: according to legend, on this hill in a cave Lupercal (decoration of the underground space is a mosaic) wolf suckled Romulus and Remus. Today the hill is interesting opportunity to admire from the height of Circus Maximus and the Roman Forum. Address: Via di San Gregorio.
Photo