Shopping in Rome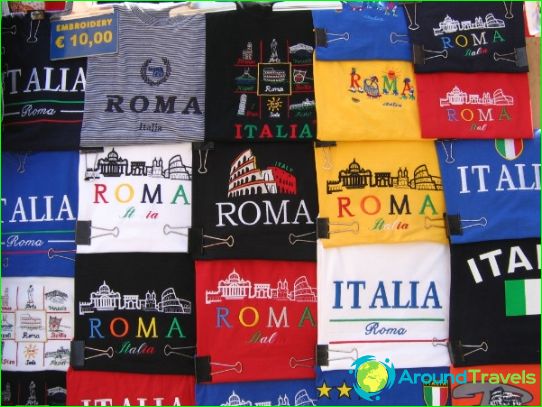 Rome - a magical city of architectural masterpieceswith a long history. But the shopping here and there is a time and place: large chain stores, large shopping malls, flea markets, a variety of boutiques scattered throughout the city.
Shopping in Rome quite varied - hereYou can find almost all the luxury Italian brands, high-quality leather goods and furs, as well as a huge number of secondary brands at fairly competitive prices.
Holidays in Rome - the perfect way to combine business with pleasure. Before the trip everyone is faced with the question - what to bring from Rome? We compiled a list of possible purchases.
Shopping in Rome:
Especially popular among touriststraditional souvenirs. The first thing that catches the eye, it is well-known Murano glass used to make beautiful jewelry: bracelets, necklaces, pendants, rings, earrings, watches and other accessories. And despite the fact that the Murano glass produced in Venice, a plurality of products can be purchased in Rome. The main thing to beware of imitations.
In addition to Murano great demand for various religious souvenirs - figurines or plaster busts, candles and incense, church calendars, icons and holy water in glass bottles.
Value represents the Roman original porcelain and ceramic products. Many tourists acquire souvenir plates, vases or figurines, as well as products made of marble.
Paintings and cartoons. In urban areas you can find street artists who sell ready-made product pictures, or cartoons. Any of these options will be a great souvenir of the trip.
Every fashionista wants to bring back from Rome at leasta designer little thing. The first thing that must be purchased in local stores - Italian silk scarf. Second - shoes, which is known for impeccable quality, and the third - fancy gloves and stylish sunglasses.
What to buy in Rome from food? Lovers of Italian food shop in Rome, olive oil, balsamic vinegar and Italian pasta. In addition, you can buy a delicious chocolate mint, orange and strawberry. A great gift for relatives and friends will be in the form of sweets Colosseum or carnival masks. You also can not go back from Rome without the famous Italian wine.
Number of Photos in Rome