What to do in Rome?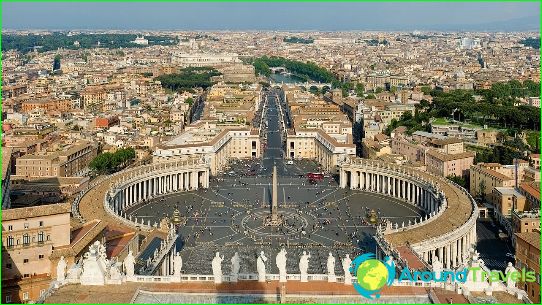 Rome - a multi-faceted and interesting city, where every year flock inexhaustible flow of tourists to touch the living history.
What to do in Rome?
To visit the ancient forums, the Colosseum, the Catacombs, the baths;
Visit the ancient Basilica of the city and a unique crypt Capuchin;
To reach the Trevi Fountain and toss a coin in it, so, according to legend, to return to this city;
Visit St. Peter's Basilica and climb on its dome, breaking the 551 step to enjoy the panorama of the city.
Inspect Castle Sant'Angelo, where many celebrities were in prison.
Things to do in Rome?
The tour route is better to start from the squareVenice - here begins the main street of the city, passing through which you can get to the sights of Rome. Reaching the Capitoline hill, you can visit the Capitoline museums and palaces, as well as down to the Forum and Colosseum.
In Rome, many museums, to explore the collectionsthat week will be enough. Particular impression on the Vatican museums with fine art treasures, a collection of sculptures and historical artifacts. Be sure to see the Sistine Chapel!
Since Rome - the world capital of fashion, herethere are excellent opportunities for shopping in the city is both expensive boutiques and high-end stores and shops where you can purchase items at reasonable prices. In Rome you can buy coats, raincoats, leather bags, accessories, shoes, gold jewelry, antiques, appliances. For a successful shopping in Rome is better to come during the seasonal sales (mid July - mid-September, the beginning of the Christmas holidays, the beginning of March). Wishing otovaritsya fashionable things at affordable prices is to go to the shops, located on the streets of Via del Corso, Via Barberinini, Via Vittoria. Also worth visiting the flea markets in Rome.
Hiding from the scorching sun in Rome can be on the banks of the Tiber River. There is an artificially created beach "Tiber Village". For the same sea swim is to go to the resort of Lido di Ostia.
Rome - a grand palazzo, the richest museums, magnificent temples, beautiful scenery, excellent opportunities for rest and treatment. All this is a great experience on holiday in Rome.
Photos where to go in Rome