Where to eat in Rome?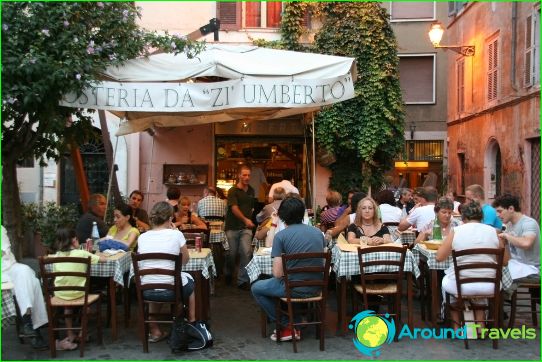 Arriving in the capital of Italy, each camperasks the question: "Where to eat in Rome?" In this city, feeding problems will not be - there are over 7,000 establishments (cafes, bars, pubs, pastry shops, pizzerias, trattorias, kiosks with fast food, restaurants of different cuisines).
Where to eat in Rome cheap?
Cheaply you can eat in fast schoolsfood, such as Pizza del Teatro (here you can order a pizza with different tastes, for about 8 euros) or Tricolore (where you can try a variety of sandwiches, pastries, fish, deep-fried), where the average score is 10-15 euros.
In the evening you can visit the Dar Filletaro - Visitors of this institution will be able to taste the cuisine of Lazio, for example, cod fillets fried and Latin with vegetables (meal costs about 4.5 euros).
If you decide to visit the restaurant, then you can eat cheaply, for example, in Checchino dal 1887 - here you can enjoy the Romanesque dishes (spaghetti alla carbonara, alla vachinara code).
Where to eat in Rome tasty?
Olio, Sale e Pepe: in this pizzeria you can enjoy not only the different types of delicious pizza, and traditional roman dishes (average meal here costs about 20 euros).
Acqualina Hostaria in Roma (the restaurant has 1 Michelin star) are lovers of fish dishes and seafood, as well as gourmet (tasting menu of nine dishes is 95 euros).
La Piazetta del Gusto: in this restaurant you will be able to try Italian specialties, meat, cheeses, various cakes (with ham, cheese, zucchini), risotto, pasta with meat and vegetable sauces, artichokes, grilled ...
Roma Spirita: This restaurant-pizzeria offers culinary delights Lazio cuisine and pizzas (the average meal costs about 17-35 euros).
Gastronomic tours of Rome
Get introduced to the culinary traditions of Rome youYou will be able to gastronomic excursions. For example, the guide will offer you a walk around the block Testaccio, visit the town's grocery market, cheese shop, a traditional Roman restaurant and pastry shop. Typically, these tours require about 6 tastings of Italian dishes in the best cafes, pizzerias and bakeries. In addition to receiving the gastronomic experience, during this tour you will hear fascinating culinary history of the life of Rome.
As part of the tour you can visit Eataly -gastronomic boutique, where you can not only buy quality and tasty products, but also to try dishes made from them. And to learn how to cook traditional Italian cuisine, you should visit a culinary master class.
Rome has a variety of places totry national dishes: the most expensive and exquisite, you can enjoy in a ristorante, but for a delicious and inexpensive meal it is advisable to go to the trattoria, taverna, osteria.
Photo