Areas of Venice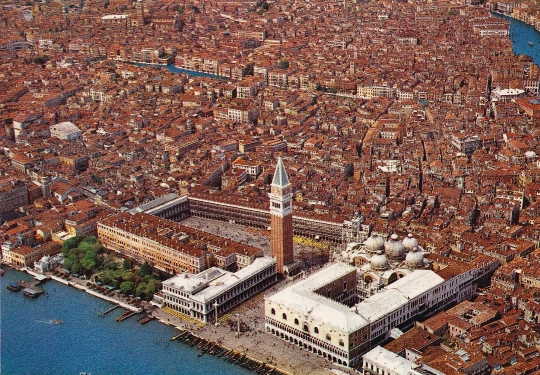 Venice Districts represented on a map - there you will see six areas has its own characteristics and important attractions.
Names and descriptions of historical areas
San Polo in the area is recommended to explore the San Rocco church. And for those who want to find yourself on the right bank of the Grand Canal, you will need to cross the bridge of Rialto.
San Marco: its sights - Piazza San Marco, the Cathedral of San Marco, the Campanile, the Doge's Palace (on the upper floors, where visitors will Armory Hall of the Grand Council and other facilities, can be reached by "The Golden Stairs"), Palazzo Grassi and Dandolo. Tip: the square is always crowded, so if you want to see it without the crowds of tourists who come here in the early morning hours 5. As part of the area is the island of San Giorgio Maggiore - it is interesting for its cathedral, the bell tower with a panoramic view of Venice.
Santa Croce: despite the fact that this area is rarely visited by tourists, it is worth a look - here to visit the palaces Fondaco of Turks and Ca 'Pesaro (opened Asian Art Museum).
Cannaregio: Tourist District remarkable Madonna dell'Orto and the Ghetto.
Castello: East interesting parks and gardens (ideal for walking), and the west - the Cathedral of San Giovanni e Paolo and Church of San Zaccaria.
Dorsoduro: if desired, you can reach the area of ​​San Marco, passing the Bridge Academy. The very same area Dorsoduro is attractive for walks in the areas of Santa Margherita and San Barnaba, as well as a visit to the Guggenheim Museum. In addition to concerns Dorsoduro Giudecca island - there are located three churches and small houses with red roofs.
Where to stay tourists
Accommodation in the hotel in Venice may wellruin travel during high season the 5-star hotel will cost at least 350 euros, a 3-star (near San Marco) - 250 euros, and Staying in the hotel, located at a distance from the center, they will be asked to pay for room 100 -200 euros (1-2 stars hotel).
A good place to stay in Venice canbecome Cannaregio district - a rather quiet place, where hotel accommodation is relatively inexpensive, and close to restaurants, renowned for excellent cuisine. If you are not averse to live in a hostel and save on accommodation, you have to find the meaning of this means of accommodation on Giudecca Island (can be reached by vaporetto).
Each district of Venice is good for tourists, but it is better to avoid placement in hotels located far away from the bus terminal at Piazzale Roma (the rest can marred by a noisy environment).
Photos Venice area