Christmas in Venice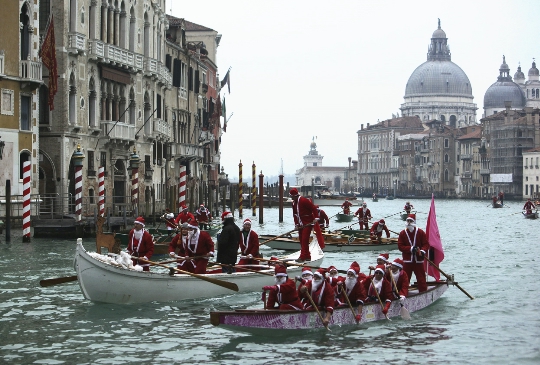 Resting on Christmas in Venice, you will find yourself inmagical winter wonderland, which will give you unforgettable emotions. And, in addition, only here you will be able to see riding a gondola Italian Santa Claus!
Features of the celebration of Christmas in Venice
On the eve of the Christmas tree in the squareSt. Mark's is decorated with lights (as well as the Venetian streets, and numerous channels), and river buses (vaporetto) - lights and flowers. As for the locals, they are at this time put on a balcony pots with Christmas trees.
It should be noted that full-year Italian GrandfatherClaus - Babbo Natale - rests and Christmas presents to all the children gifts, and for this you need to write him a letter, which should be deleted in special red mailbox (hanging on almost every street corner).
Venetian Christmas menu is complete withoutconsecrated goose, lentils, rice with almond milk, different kinds of pasta, pastries with nuts and dried fruit, Christmas cake pandoro, sparkling wine, dessert in the form of nougat made from almonds, honey, egg whites and sugar. Many families put on the table of the nursery test with figures of biblical characters. And, for example, tourists can enjoy a Christmas dinner at the restaurant "Ristorante Alle Corone".
Entertainment and celebrations in Venice
On Christmas Eve, it is recommended to visit the mass inSt. Mark's Basilica. It is desirable to come earlier, but not exactly at 22:30, as the cathedral is quickly filled wishing to attend the festivities - free concerts, performances of children's choirs, theatrical performances. The festivities will be willing to wait in the cathedral of Santa Maria of the Friars, and in other churches of Venice
Admire the Christmas Venice can take a cruise on the vaporetto (since the Christmas period change their timetables, it is expedient at the marina utochnik schedule).
From 6 December to mid-February will be able to ride on the rink at the Campo San Polo (immediately available skate rental).
Christmas Markets in Venice
2-24 December Venetian area of ​​Santo Stefanois transformed into a Christmas village - here you can taste local specialties and homemade sweets, get in the shopping stalls - wooden houses with Christmas gifts and a variety of souvenirs in the form of fancy lights, Murano glass, porcelain dolls, ceramics, candles, lace, carnival masks, jewelry and decorations for home as well as listen to music and take part in national holidays.
On December 9-10, is to visit the "Market of Miracles", which are traded in antiques and second-hand things (postcards, books and other items of interest to collectors).
Photo