Prices in Venice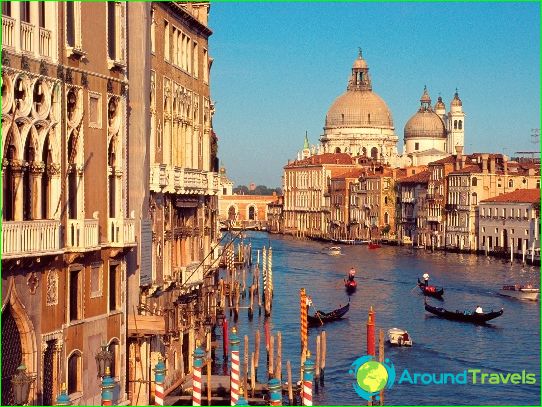 Beautiful and ancient city of Italy is consideredVenice. It is located next to the Adriatic Sea and preserved architecture of the heyday of the Venetian Republic (XV-XVI century). Prices in Venice are high, so the rest there is associated with more to spend.
Accommodation
Stay for a week in the famous Italian citywith departure from Moscow is 38 - 60 thousand rubles (for two people). Tour price depends on the hotel category and a set of additional services. Most of the hotels in Venice are located close to attractions. Rent a room in Olimpia Hotel which is located in the historical center, is from 6500 rubles per day. In Venice accommodation, on average, it costs 25-700 euros, depending on the selected location. The tour hotels offer free breakfast.
Excursions
It is best to book individual tours. They provide an opportunity to see the best sights of the city along the route, which is convenient for tourists. The cost of such trips is high. Cheaper are group tours. Sightseeing program includes inspection of the Cathedral of St. Mark and the Doge's Palace. It lasts 2 hours and costs 30 euros.
During the summer, the city is filled with specificthe smell of rotten buildings below. Tourists visit Venice to admire not unusual city and a ride on a gondola. There is a well-maintained sandy beach, which is free. It is located next to the stop of the Lido.
Transport in Venice
In the city there are no buses, taxis andtrams. Urban transport is a vaporetto, which ply between the islands and move through channels. Moved to the opposite side of the channel and can be on the ferry. Such transport costs money, but to move on foot in Venice is not very convenient.
Food
In Venice, not too many good restaurants. In some institutions, prices are high and second-rate food. Grab a snack in the cafe or trattoria for 20-35 euros. They serve snacks, various salads, coffee and pizza. Lunch with traditional Italian dishes - pasta, polenta or risotto, worth at least 60 euros. The restaurant in Venice for lunch will have to pay more than 100 euros. The confectionery sell ice cream cost of 5 euros. All restaurants and cafes should leave a tip, the size of which is equal to 10% of the amount. Venetian summer markets are filled with vegetables and fruit. them low prices. Full package of different fruits cost 10 euros. The highest prices of products are fixed on the Piazza San Marco. A bottle of mineral water there is 3 euros, while in other areas of Venice its offer of 25 cents.
Photo