Shops and shopping centers Venice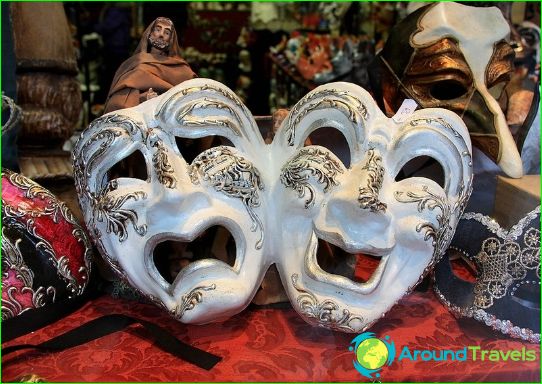 Venice - a wonderful city on the water, with a specialway of life dictated by the interaction of the city and the water element. Tourist interest is primarily due to this characteristic of Venice, as well as its historical architectural appearance, formed in 14-16 centuries. They attract visitors and international film festivals, art exhibitions.
In order to complement or update the wardrobeFurniture in the apartment did not come to Venice. On mainland Italy conditions are more favorable for shopping. There's no additional overpayments associated with transport costs. In addition, in Venice elementary little space. Stores are forced to crowd on a small patch of land, something like solving the problem of retail space by increasing the number of floors. Plus shopping in Venice is still there. Prices higher than in Milan, but lower than in Moscow, and special items. This is not consumer goods every day, things here quality, original.
Popular shopping areas
As expected, all of the most pretentious boutiqueslocated in the city center. Piazza San Marco is full of shops with jewels, which range will satisfy the most demanding customers, in addition, you can buy glass from the island of Murano and Burano lace with. On the streets, stretching westward from the square (Frezzeria, Calle Vallaresso, Calle Larga XXII Marzo and Salizzada San Moise) glamor and gloss goes on, there are a lot of different mini-shops with souvenirs and exclusive bagatelles.
Merceria Area extends to the other side of thePiazza San Marco - to the Rialto bridge. Here, prices are lower and many boutiques with silk products, bags, shoes, accessories and souvenirs made of sheep skin. On the bridge itself is Coin shopping center. No article about shopping in Venice is not without its description. This is the main department of the city. But the Italian cosmetics and perfumery in him. To do this, select a special network Coin Beauty shop a few blocks from the main shop, on the street San Luca.
Another area of ​​boutiques with relatively lowprices - street Strada Nova, in the Cannaregio district. There is not so crowded. Prices are lower not only in shops, but also in restaurants and hotels. The area in front of McDonald's is one of the inexpensive grocery supermarket Billa. It happens that outdoor advertising in these stores inconspicuous and difficult to find. It remains to observe, from whence come the people with big yellow bags, and those are usually a lot.
In connection with the floods morecity ​​dwellers are moving out of town. In the suburbs - Mestre, Jesolo, Dolo - the most attractive prices for shopping, there Outlets. So in Mestre Outlet is the most expensive brands of Donatello and mall brands middle segment Valecenter.
Photos Venice shops