The symbol of Venice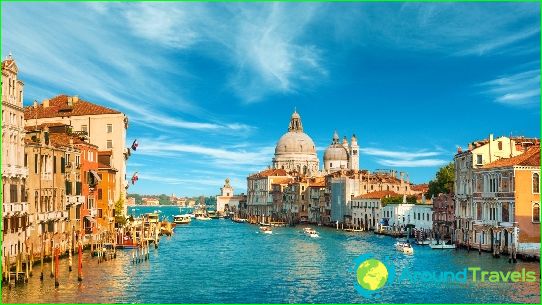 The capital of the Veneto region openstravelers plenty of opportunities - here they will be able to admire the magnificent palaces, relax on the sandy beaches of Lido to attend the Venice Carnival, memorable holiday or honeymoon ...
Cathedral of St. Mark
The symbol of Venice is the campanile of the cathedral (itheight - about 100 m), which is famous for its survey platform (lifting is carried out by means of the elevator, the price - 8 euros), which will be able to admire the beauty of Venice. But the attention of travelers and deserve the cathedral itself, where they will be able to visit the museum (€ 5), see the mosaic of 12-13 centuries and works of art (they were brought from Constantinople), admire the mosaic icons and the "golden altar" (for the inspection charge 2 euros) a set of icons, thumbnails (80), as a decoration which appears gold and precious stones. In addition, it was this cathedral is the repository of the relics of St. Mark.
Address: Piazza San Marco
Doge's Palace
In the Hall of the College of travelers will be able to inspectpaintings by Tintoretto and Veronese, adorn the walls of the hall; in the voting - "get acquainted" with Venetian dozhami inspecting their portraits; the Armory Palace - see a collection of military weapons, and in the Hall of Maps - admire the walls, decorated with images of cards (the work of Italian artists). On the upper floors of the two state rooms will be invited to climb, overcoming Golden ladder (it is decorated with gilded stucco). It is worth noting that from here you can get to the Bridge of Sighs (connects the palace and prison building).
Useful information: Address: Piazza San Marco, 1 site: www.palazzoducale.visitmuve.it
Rialto Bridge
The bridge, based on 12,000 piles (they scored in the bottomVenice Lagoon) -izlyublennoe and visited place (at night, when lit colored lights along the canal, guests manage to make unique photo). Its arched galleries housed 24 shops where you can get souvenirs, leather and jewelery. In addition, it offers platforms for viewing the beautiful panorama of the Grand Canal.
Address: Sestiere San Polo.
The Venetian lion and gondolas
Yet another symbol of Venice - a lion (itimages are decoration of many Venetian monuments and buildings) and the gondola. Today, they are used to a greater extent as a tourist entertainment (gondoliers who want to carry on the urban channels). In addition, the gondola participate in activities such as "Historical Regatta" (September) and the "parade gondoliers" (mid-July).
Photo